Joel Feldberg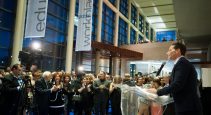 Canadian Facility Management & Design
Last month, Global Furniture Group rolled out a red carpet of sorts for a cocktail reception celebrating its 50 years in business.
Canadian Facility Management & Design
The Global Group (Global), a manufacturer of office furniture, has appointed a new President and CEO to its team. Effective Feb. 10, Joel Feldberg, Global's former Chief Operating Officer, assumed the role.