Gibbs Gage Architects
Construction Business
Construction has begun on the new four-storey 10,000-square-metre Mathison Hall building for the Haskayne School of Business at the University of Calgary.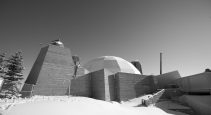 Design Quarterly
Contemporary Calgary announced it has selected Calgary-based Gibbs Gage Architects and KPMB Architects of Toronto for the Centennial Planetarium.
Design Quarterly
Gibbs Gage Architects (GGA) has announced that Chito Pabustan and David Wittman are now partners in the Calgary-based firm.