Built over twenty years ago, the Forest Sciences Centre at the University of British Columbia —with its soaring, timber-framed atrium and tree-like wood columns supporting a massive skylight—is the closest thing you'll find to an indoor forest canopy. David Fell, former research leader at FPInnovations, sees this building designed by DGBK Architects as "the ultimate relaxed environment, where people come from all over the campus to study."
The popularity of the almost entirely wood space, filled with natural light and finished with Douglas-fir and bigleaf maple veneer, inspired Fell to dig a little deeper. In 2010, he launched a study to investigate the health benefits of wood in the built indoor environment. In the last few decades, studies have shown that exposure to nature can lower blood pressure, heart rate, and stress levels, while cognitive performance, concentration skills, and even creativity are seen to improve. Nonetheless, Canadians spend as little as 6 percent of their time outdoors.
We compensate by bringing plants and greenery into our homes and workplaces. Research reveals that the presence of nature indoors can reduce the human perception of pain, as well as thermal discomfort. For Fell, this measurable influence of natural elements like indoor plants on human well-being suggests that exposed natural wood might also provide the same benefits. "People don't notice changes in temperature if there are plants in the room," he says. "If we can prove this for wood in interior applications, it could have profound implications for sustainability by reducing the carbon load of the operation of a building."
To test the effects of wood and natural materials in the built interior environment, 119 students were assigned to either wood or non-wood rooms.  The researchers continuously monitored heart rate and skin conductivity, which both fluctuated in response to stressful thoughts or stimuli. The study had three distinct time periods.  In the first period students were left alone in the room to measure anxiety or anticipation-type stress reactions.  In the second period students completed a stress-inducing mathematical task to measure their reaction to a direct stressor.  Finally, students spend a third time period in the room alone to observe their stress recovery.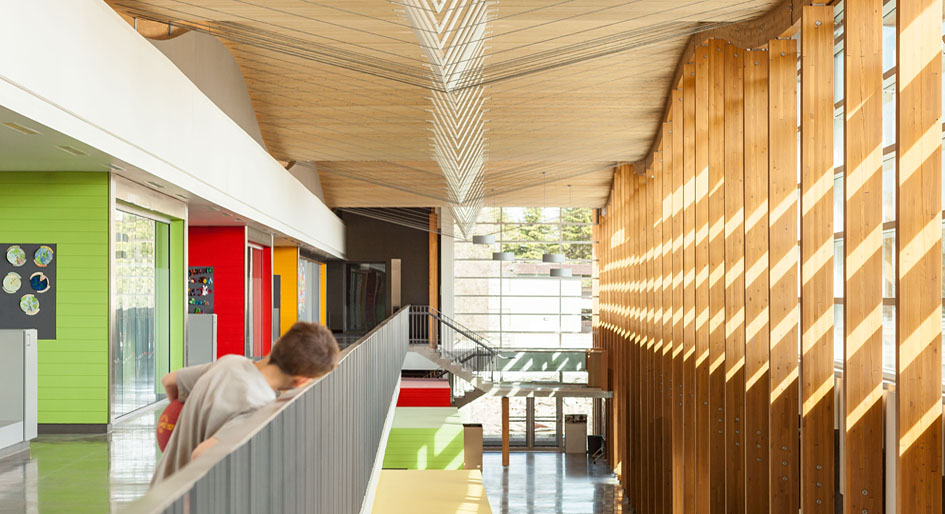 Increasingly, education, health-care, and other public buildings incorporate wood for its biophilic benefits, such as Samuel Brighouse Elementary by Perkins and Will located in Richmond.  Photo: Perkins and Will Canada / © Andrew Latreille
The results: students who spent time in rooms featuring natural wood exhibited lower stress reactivity. During all three periods of the study, stress, as measured by sympathetic nervous system activation, was measurably lower on average in the rooms featuring wood than in the non-wood office.
These early results are promising. We've long used wood in the interiors of our homes for its warm and calming qualities, and for these same reasons we are increasingly seeing wood used in office, health-care, and retail environments. "Wood is an insulator," explains Fell. "It feels warm to the touch. This is a prized relationship."
The precise nature of this relationship is difficult to quantify. "From a psychoevolutionary perspective, there are certain things in nature that gave us an evolutionary advantage," says Fell. "For most of our evolution, humans have had a close relationship to trees and wood, so it's only natural that its visible presence has a positive effect on our well-being. This is not a learned reaction," says Fell, "it is an innate response. We are wired to recognize things in nature that benefit us."
Fell draws attention to the concept of "biophilia," which suggests that humans possess an innate tendency to seek connections with nature. "In the early nineties we focused on improving a building's environmental performance, but we weren't necessarily always focused on improving the health of its occupants," says Fell. "These days, the conversation has turned to the health of the occupants, and wood has a really great story to tell." And while more research is needed, science is beginning to confirm what folk wisdom has taught us—that wood, and nature, is good for our health. Something we've intuited since time immemorial.
Articles like this are featured in a newly released book, Naturally Wood, which showcases British Columbia's sustainable forest management, cutting‐edge wood architecture, design and technologies.
Four continuing education units have been developed based on the book. They are recognized by the Architectural Institute of British Columbia and are available at naturallywood.com/naturally-wood-ceus.
Download the Naturally Wood e-book at naturallywood.com/nwbc.