The rise of artificial intelligence (AI) and automation may threaten to replace human talent in many industries, but the opposite is true in the field of disaster restoration. True, the tools might be more sophisticated, but when it comes to helping clients and communities recover from an emergency, nothing replaces the "human touch".
"Empathy is something you can't code, and it's as critical to disaster restoration as any technology," says Margo Malowney, Vice President of Marketing and Communications with FirstOnSite Restoration. "Being successful in this business takes a special kind of individual – one who understand what clients are going through and are driven to help them recover."
FirstOnSite Restoration knows the value of human talent well. From the Fort McMurray wildfires to the Alberta floods, and Ontario whiteouts to Quebec ice storms, its success on the front lines of Canadians disasters has hinged on its ability to build teams that can not only handle the job but help guide clients through extremely stressful times.
"It's not simply about renovation or construction. We meet people in times of crisis; people who have had their lives turned upside down and need someone who can guide the way and manage that stress," says Malowney. "Therefore, we're always looking for the types of people who not only handle the stresses of the job, but can bring human skills, passion and a desire to help people in peril, no matter the situation."
And those situations are adding up. According to the Insurance Bureau of Canada, property claims as a percentage of total claims have risen significantly over the last decade from 24 to 35 per cent, and in 2017, catastrophic losses in Canada accounted for approximately $1.2 billion.
As both natural disasters and man-made emergencies continue to climb, the demand for new talent in the restoration industry is rising. As such, FirstOnSite has launched broad hiring campaigns across the country (especially the GTA) in search of new team members that can counsel clients through all phases of disaster recovery – from the initial business continuity and emergency response planning stages to staff training and the critical minutes, hours and days after an event occurs.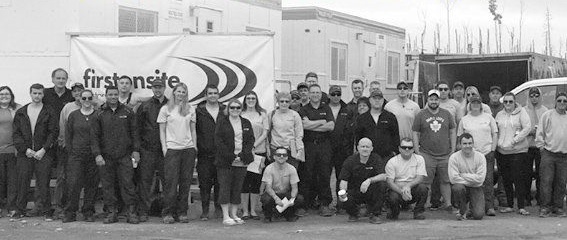 No doubt, the job can be very challenging and stressful. That's why a vital part of FirstOnSite's recruitment approach is ensuring potential recruits know what they're getting into.
"We try to communicate with our recruits early and transparently in order to find the right kinds of people – the kind who are inspired by knowing they make a difference," adds Malowney.
AI can't replicate empathy. Automation won't replace a trusted partner. And while these tools are critical to enhancing the ways and means by which FirstOnSite does its job, Malowney adds they will always lack an essential "human" touch: "For us, exceptional customer experience is when a customer felt that we cared. People need that human factor – to know they're being heard by real people – which is why we continue to make that the main driver of our company and a core focus when we look for new talent."
FirstOnSite Restoration is a leading Canadian-based disaster restoration company providing remediation, restoration and reconstruction services nationwide, as well as for the US large loss and commercial market. For more information, visit www.firstonsite.ca.