Keeping pace with fire safety compliance is difficult but critical nonetheless. And when it comes to protecting the safety of property and occupants, there's no room for "good enough." Fortunately, while the task of managing inspections, reports, and interactions has traditionally been time-consuming and demanding, there are now technologies and services that can do the heavy lifting.
"One of the main challenges for property owners and managers is simply collecting, storing, and managing all the various reports they need to stay on top of fire safety regulations," says Allena Goodyear, Manager of Life Safety Services with LRI Engineering Inc. (LRI) "The problem is fire safety documents come in by hand, email, or through other systems. Without some way of keeping track of all that, you run the risk of missing or misplacing documents."
What's more, Goodyear adds, the inability to find important fire safety reports when needed can result in fire code violations – or worse – the possibility of overlooking requirements that helps keep building occupants safe.
A better, more connected way
Technology and third-party expertise can bring relief to many property management operations, and fire safety compliance is no different. LRI's Compliance Connect, for example, is a program launched on December 1 that blends digital solutions and professional auditing services to help property teams stay ahead of their fire safety responsibilities throughout the year.
"The goal of Compliance Connect is to offer a program which includes a software platform that helps building owners simplify their required maintenance requirements under the fire code by making sure everything they need is held and tracked in one location," explains Goodyear.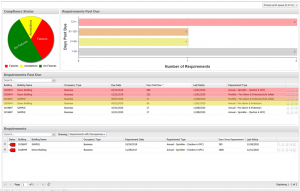 Through Compliance Connect, users can track which documents have been submitted, which are past due, and which may be missing altogether. Moreover, it provides a colour-coded overview of a building's fire safety compliance progress and alerts the appropriate people when corrective actions are required.
Compliance Connect's software can also be used to store and manage documents for other compliance programs, (e.g., health and safety, HR, security, etc.), enabling it to double as an all-around digital storage tool.
Providing a digital hub for document storage is just one part of LRI's fire safety compliance solution. The other is delivering third-party audits of its clients' fire safety records to ensure nothing is missed or falling short of fire code requirements. These audits include a full suite of services, including document reviews, recommendations, fire safety system life cycle assessments, budget planning consulting, or replacements of fire safety equipment.
Ultimately, adds Goodyear, "The idea is to make fire code compliance simpler and more streamlined for property management teams on a daily basis. Beyond that, we're here to serve as a partner in ensuring they're meeting all fire code expectations."
Remote collaboration
Compliance Connect delivers an online benefit to property management teams, especially in an era of work-from-home staff and hybrid teams. By providing all (approved) staff access to a single online hub, the program helps teams stay in sync and track any deviations that may result from the pandemic.
"It's been a unique year, to say the least; and although fire code responsibilities have remained in place, there are a host of restrictions and health considerations that have led to delays or backlogs," notes Goodyear, adding, "As the world becomes 'normal' again, Compliance Connect will help teams stay on course and make sure things aren't falling through the cracks during a busy and difficult time."
Hands-on support
Many property management operations stand to benefit from modern technology. Still, there remains a demand for specialized, human services. To that end, LRI is confident that the Compliance Connect program will bring added efficiency, accountability, and peace of mind to what can be an arduous process.
"Fire safety compliance isn't static. It's not something you put in a binder and dust off when it comes time to fill out some forms," says Goodyear. "So while we design and implement a fire alarm systems for our clients, it's important that we also work with property teams to make sure they're maintained and operating the way they're intended."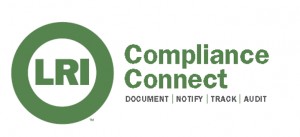 Learn more about LRI Engineering and Compliance Connect. Visit www.lrifire.com or email ComplianceConnect@lrifire.com.