As students returned to school, they settled in to educational environments made warmer and more comfortable through the use of wood in building design.
People spend the vast majority of their life inside buildings. For children and young adults, many of those hours are spent inside educational institutions.
Having wood visible in learning spaces has been shown to lower stress and improve concentration and test performance.
Along with health and wellness benefits, wood construction is cost effective and often faster than other methods.
School principal Rob Comeau sees the benefits and beauty of B.C. forest products every day with students and staff at Abbotsford Senior Secondary School. The school has an intricate and impressive rotunda roof built of exposed glue-laminated timber (glulam) and wood decking.
"Open spaces and light are some of the best design qualities in a school," said Comeau, adding the craftmanship of wood is perfect for a natural feel. "That's B.C. architecture — light, wood, and space."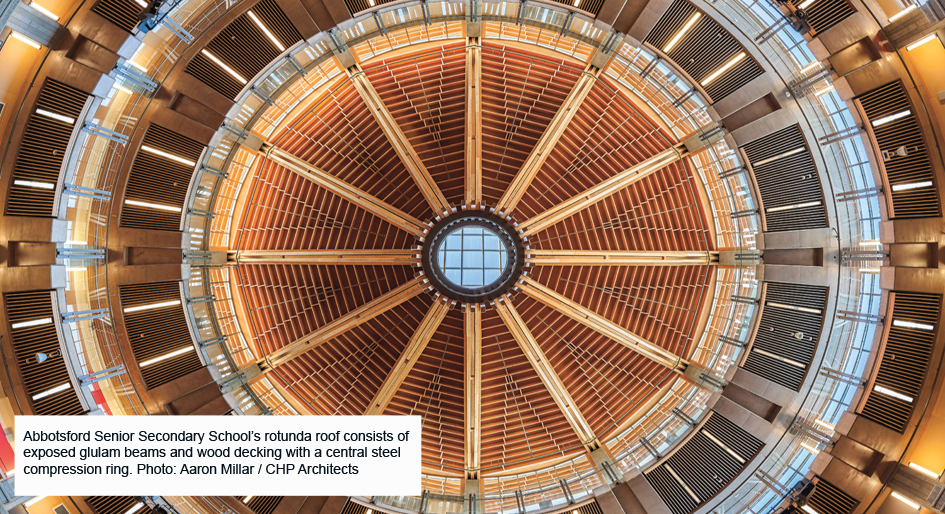 Wood is featured in schools and educational institutions all over B.C.
Seabird Island Community School, Lalme' Iwesawtexw, is often described as a bird preparing for flight. The design draws inspiration from traditional Indigenous loghouses. The parallel-frame post-and-beam structure is wrapped almost entirely in western red cedar-shingle cladding.
Wood is used throughout Southern Okanagan Secondary School. Its impressive double-height multi-purpose room is elegantly built with glulam. Birch plywood paneling is used in high-impact spaces, including the gym, for a durable and aesthetic finish.
The University of British Columbia's Forest Sciences Centre in Vancouver showcases what's possible using B.C. forest products. The impressive atrium takes the form of a five-storey galleria, its glass roof supported on 13-metre parallel strand lumber "tree" columns, creating the feel of a forest canopy.
At Thompson Rivers University in Kamloops, the sweeping serpentine roof added during the revitalization of the "Old Main" building looks like a floating ribbon of wood, with exterior soffits made of smooth western red cedar cladding. The panelized roof structure was prefabricated off-site from glulam beams, wood joists and plywood sheathing. It took only seven weeks to install, with the panels locking into place like a puzzle. Its lighter wood hybrid design minimized the additional load on the original 1960s structure.
B.C. schools place a high value on natural materials and environmental performance, providing innovative and durable community facilities that contribute to quality of life while still being economical to build. Wood from B.C.'s sustainably managed forests is a home-grown solution.
"Each of us needs to adjust our carbon footprint and as a naturally renewable material, wood has a role to play," said Comeau. "Any time you can get quality product right in your backyard, why not use it?"
These projects and others are featured in a newly released book, Naturally Wood, which showcases British Columbia's cutting‐edge wood architecture and design. The beautifully illustrated, 160-page publication contains more than 65 innovative wood buildings and projects, including how wood is being used in education and school.
Download Naturally Wood digital copy here.