Property maintenance is anything but typical in the "new normal." Still, when it comes to raising the bar for cleanliness, Metro Jet Wash had a head start.
"Sanitizing the dirtiest and most unhygienic part of our clients' buildings is what we do," says Brian De Carli, Vice President of the Toronto-based waste equipment cleaning company. "We had to make a few adjustments when COVID-19 came around like everyone else, however, we were already ahead of the curve."
No doubt, the pandemic has introduced greater health and safety risks and considerations for all property maintenance stakeholders. And with nothing less than the health and safety of tenants and property staff on the line, Metro Jet Wash wasted no time reviewing its safety protocols and practices.
"We were proactive and strategic with a plan when the pandemic began ramping up," says Brian. "We saw the numbers rising and we recognized the risks to our team, so we were quick to put new protocols in place, provide the right information, and equip our team with all the personal protective equipment they needed to do their job in this new environment."
A service refresh
Stocking up on PPE was only one part of Metro Jet Wash's pandemic response. Beyond this, the company implemented regular employee screenings, staggered start times, occupancy limits for its shop and trucks, and updated procedures for its on-site client interactions.
"Our main focal point is communication," says Leslie De Carli, Chief Executive Officer with the company. "We've always had a great back-and-forth with our clients. Now, we're calling ahead before we arrive, ensuring the garage or garbage rooms are open when we get there, and asking our clients to help ensure our workspaces are clear and safe so that we're social distancing from residents as much as possible."
Leslie adds that many of the in-person interactions (e.g., work orders, service scoping, etc.) are also being done remotely and electronically to further reduce contact.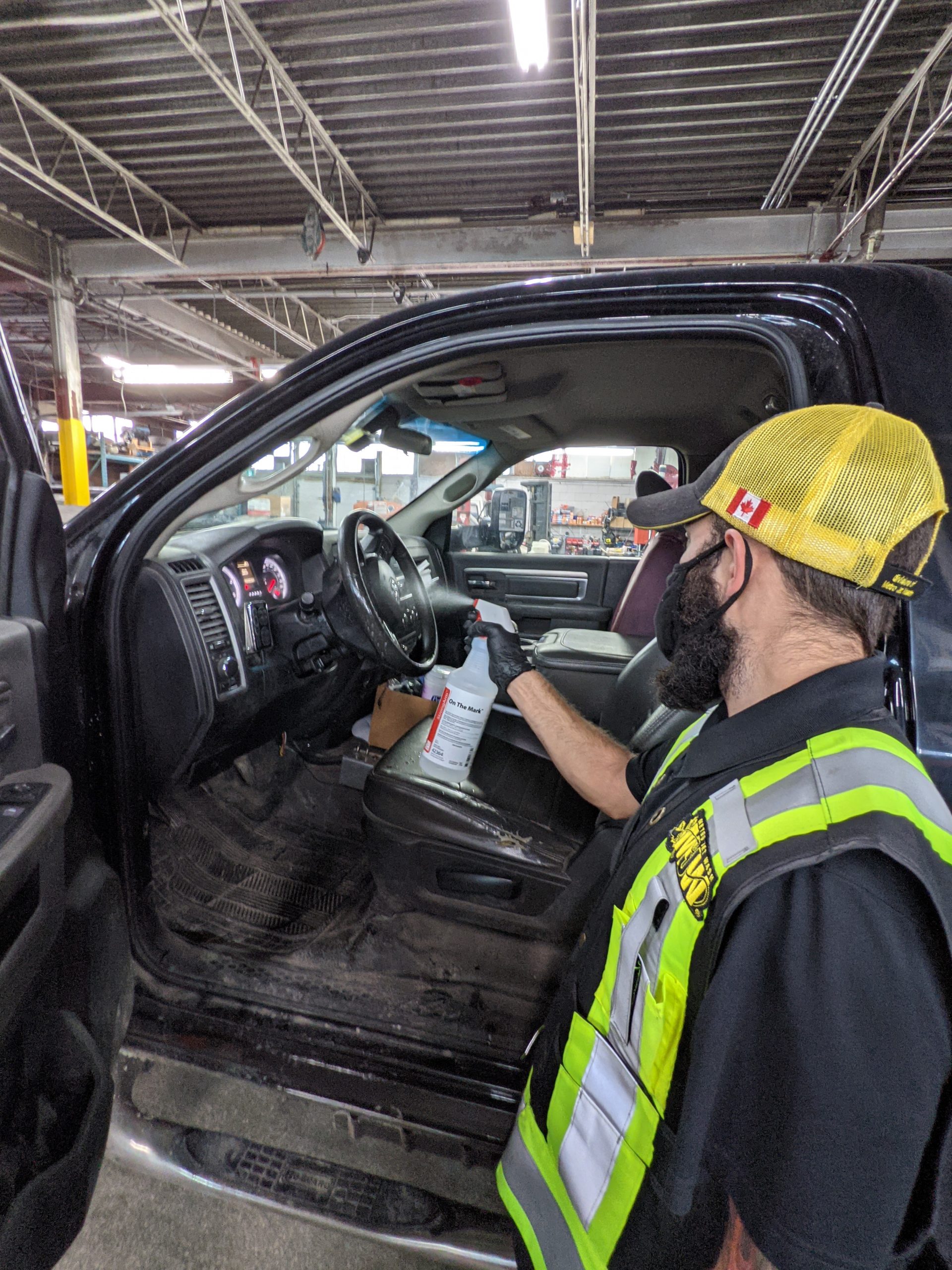 As for the job itself, Metro Jet Wash is no stranger to the risks of working in potentially contaminated environments. To that end, vehicle and equipment sanitization remains a priority at every job, and MJW Teams take the extra steps needed to ensure that the chutes/compactor, garbage areas,  parking lots and drains are thoroughly cleaned.
"If anything, COVID-19 has re-enforced the importance of what we were already doing and encouraged our team to stay focused and use proper PPE for the safety of all," says Leslie.
Making it stick
It's been nearly nine months since the pandemic hit – enough time for complacency and fatigue to set in around health and safety measures. Recognizing this, Metro Jet Wash's leaders take daily steps to keep crews at the top of their game.
"As one of our guys said, you don't have to fear COVID, you have to respect COVID," notes Linda Passarelli, Office Manager with Metro Jet Wash. "It's not about making our team fearful or anxious about working, but re-enforcing positive habits and supporting them however we can to make sure they're confident about their safety when they get out there."
Re-enforcing COVID-19 habits is a daily mission for Linda and the team. In addition to conducting weekly meetings to discuss and re-affirm COVID-19 risks and procedures, Metro Jet Wash leaders use various means to communicate up-to-the-moment pandemic-related stats and information. Moreover, the team works closely with clients to ensure their commitment to pandemic safety is reflected on site.
"It's a two-way street," adds Claudio De Carli, President of the company. "Just as we're doing everything we can to make sure our people are safe at the building, we trust our property management clients to do what they can to help us work quickly, effectively, and with minimal risk to our people."

Metro Jet Wash Corporation is a Canadian based property maintenance company, is the industry service leader in waste equipment, underground parking, drain cleaning. For more, visit www.metrojetwash.ca.
—