Property managers and building owners of aging assets often struggle with balancing the needs of an older building with operating costs. Implementing a capital plan can help inform the decision-making process and point to what equipment needs to be maintained or completely replaced. Yet, along with solving short-term repairs and planning larger capital projects, saving energy and being more sustainable is a growing concern in an increasingly green-minded industry.
During a recent seminar at the SpringFest conference in downtown Toronto, Cherisse Vanloo and Emily Haggarty, project managers at WSP Canada, discussed how upgrading building components to be more sustainable involves proactive thinking, something a capital plan can help facilitate. Opportunities to transform buildings into more energy-efficient assets arise when managers and owners look to replace and renew outdated technology that may exist in a building constructed decades ago.
Certain components require attention during specific times of a building's life cycle. As owners and managers seek to understand the amount of energy a building needs to operate and the heating capacity it actually requires, capital planning helps manage consumption during a renewal phase.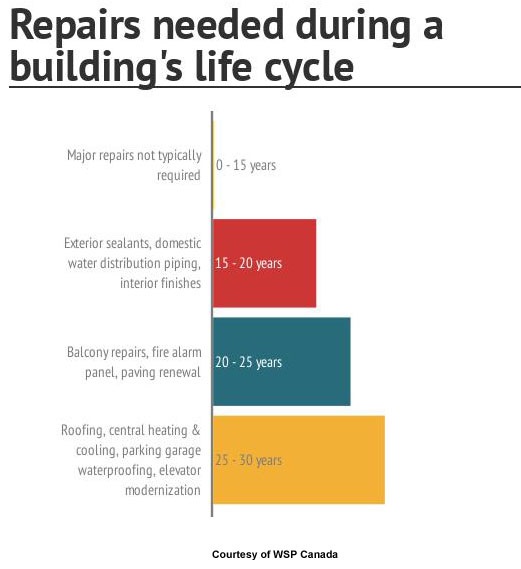 Energy efficiency
Short and long-term goals associated with energy use is a key factor when looking to adopt green strategies and satisfy tenant comfort. Planning green will boost the net value of an asset, even if that may seem costly to fathom.
"Some managers may figure that to make a building more efficient, they may need to invest more money upfront; it feels as if it's an expensive endeavor, but there is a payback period," notes Vanloo.
Some changes offer instant savings like knowing when to turn ventilation systems off during lower occupant loading times. Other improvements, for example, envelop cladding modifications or converting from florescent T12 lightbulbs to smaller more efficient T8s or T5s, come with a longer payback period.
An energy audit or cost analysis can help outline this payback to show when energy savings investments will break even and what savings will follow. All of this information can help inform the affordability of other building expenses.
In addition, existing buildings targeting LEED certification should evaluate building loads in their plan. If a building is bulk metered, occupants won't be as concerned about savings as those in a sub-metered building.
"When you implement sub-metering, where tenants are responsible for their energy consumption, you'll see a direct decrease in energy consumption because they're more conscious of the energy they are using," says Vanloo.
Building systems
The seminar highlighted how building systems, building operations and occupant use are main points of impact when thinking about energy efficiency.
Haggarty says that most efforts to reduce energy extend to upgrading systems, from replacing boilers with more efficient models to revamping lighting systems. Yet, many times, upgrades are difficult to identify and failure can be concealed. In this case, energy audits can determine potential repairs and save money.
"In the past, retrofits weren't typically implemented in the payback period with less than three years, but that is changing as green credentials become more important for clients," Haggarty adds.
New technology used in energy audits also saves energy and satisfies short-term goals. For instance, a thermal scan of a building exterior walls between curtain wall panels could identify which can be addressed with targeted repairs to improve the building's air tightness and decrease heat and energy losses.
Building operations
Consultants can also examine the length of time major equipment pieces are operating and find out which components are using the most energy.
"Building operations are often evaluated by tenant satisfaction which actually doesn't have any bearing on how well your building is performing," notes Haggarty. "We find that property owners and managers struggle from fully considering the impact on energy efficiency for a couple of reasons."
First, energy costs are often passed down to tenants, while a lot of building operations are outsourced to other companies.
"But it is important to evaluate whether you're doing quick fixes on a building or using bandaid solutions to cover up an underlying problem," she adds.
Retro-commissioning, a relatively new process that involves using building operations to optimize  performance, focuses on low-cost energy conservation measures and the fine tuning of a building system, as opposed to wholesale replacement of major equipment.
"Sometimes the payback period for retro-commissioning projects can be under 12 months, quite a big turnaround."
Occupant use
Occupant use determines the impact of energy consumption and can include plug loads, server rooms and computers, to name a few. Tenants figure significantly when it comes to energy use, especially in commercial buildings.
"In the past, we found that tenants aren't very interested in helping to reduce what their energy use is," noted Haggarty. "As we move forward, we're seeing that individuals are looking for more ways to reduce their carbon footprint."
The Race to Reduce program, which partners tenants and building owners in energy savings initiatives, is one example of how the occupant interest is changing for the better.
According to a Sustainable Industries report called, "Do green buildings make dollars and sense," separately metered tenants on average had 21 per cent lower utility costs compared with tenants occupying buildings with a consolidated meter.
The seminar concluded with advice on managing several overlapping large-scale capital projects at once and how a consultant can offer an in-depth review of various components to help set accurate budgets.
"A skilled engineer can look at your component and tell you how you can defer these large capital projects," Haggarty adds. "If your engineer tells you that you need to replace an element right away, ask why, and ask what the maintenance or low-cost repair strategies could be in the interim to allow you to save money."