Every day, buses pulse through the STM Stinson Transport Centre in downtown Montreal, emitting exhaust fumes along the way. Yet, the spacious facility, built to house and maintain 300 buses, is wrapped in 25,000-square-feet of bright yellow, ventilated ceramic cladding that absorbs the polluting particles. Integrated with smart, hydrophilic tile (HT) technology that cleans and deodorizes air, the German manufactured cladding has helped the depot earn LEED Gold certification since its opening in 2014, while creating a healthier environment for nearly 700 employees and the surrounding neighbourhoods.
"It's the equivalent to planting trees around a building—the action of a tree makes the air cleaner; ceramic cladding does that, too," notes Meggie Desjardins, communications coordinator at Ceragres, manufacturer of innovative cladding products. "A catalyst featured in the enamel is activated when in contact with air and sunlight."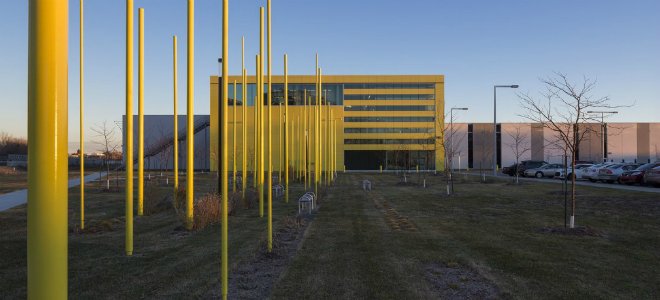 Lemay, designers of the two-storey building, had more than 100 colours to choose from and the yellow signature hue of the STM emerged as the winner. While the vibrant panels maintain their brightness even when in direct contact with UV rays, they can also be seen as an peculiar choice with dirty, grey bus fumes wafting about.
Desjardins and Johanne Racine, ventilated cladding specialist, point out the HT technology provides self-cleaning and anti-bacterial properties, ensuring dirt doesn't stick to the cladding and can be easily cleaned with water.
"The rain acts as a natural cleaner, saving on maintenance and energy costs," adds Desjardins, whose company has worked on a number of projects including an all-white clad building that hasn't showed signs of discolouration, and is not expected to.
"The anti-bacterial properties create a film so nothing sticks to the building, no mould, or dirt, no chemical agents."
Durability is a key element. The cladding adapts to harsh Canadian weather, is resistant to climate variations and reduces heat loss as it insulates a building's interior.
Racine also notes other benefits. When it comes to retrofitting old buildings, it's like having a second skin over the building, she says. The material adjusts to any angle.
"You can also change the look easily with that type of material."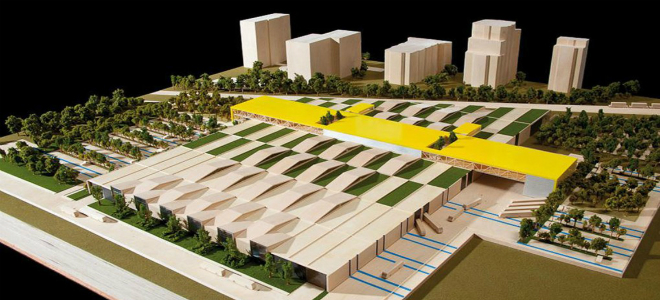 Panels can also be removed easily during an inspection, without having to remove everything. And if an owner wants to buy new panels he or she doesn't have to worry about material loss because all used panels can be recycled.
Cladding is just one of the stations's sustainable features. An air filtering system in the building that cost $4.1 million is estimated to result in heat savings of $925,000 per year. In addition, water used to clean buses and rainwater from the parking lot flows to an on-site retention basin that relieves the St. Laurent storm sewer system.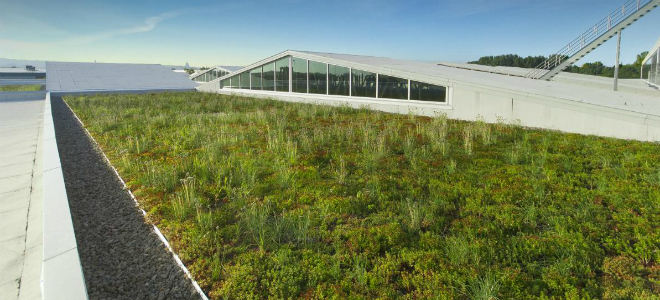 Perhaps one of the grandest elements of this sustainable design is the green roof — the largest in Quebec. Before the building opened, Toits Vertige, installed more than 80,000 square feet of Vegetal I.D.'s Standard Mix of HYDROPACK on the roof.
Minimizing the ecological footprint of the 17.79-acre site was a main goal of the project, a successful feat considering the depot is now the first of its kind in Canada to earn LEED Gold certification.
Rebecca Melnyk is the online editor of Building Strategies and Sustainability and Canadian Property Management. @rebeccachirp