Construction is set to begin on the IntraUrban Cornerstone, an industrial strata development by PC Urban Properties Corp, in January 2022. The development will be the largest industrial strata in Langford at more than 160,000 square feet.
The seven acre site, in Victoria's highest growth municipality, will be transformed from a vacant lot into a three building light industrial hub for local small and medium-sized businesses.
With industrial vacancy in Greater Victoria at record lows, rising lease rates and continued low interest rates, many local businesses and investors are looking to purchase their own office and warehouse space in a market where opportunities are rare.
"There are a growing number of small businesses in the area struggling to find space," says Elizabeth J. Mears, Cushman & Wakefield. "With industrial vacancy at 0.4 per cent in Victoria and 0.1 per cent in the West Shore, and average lease rates climbing 3 to 5 per cent per year, industrial strata units are in high demand because there is simply currently nothing available. Some companies here are operating out of garages, and we see many businesses are moving up from Victoria. IntraUrban Cornerstone is an opportunity for local small business owners to future proof and invest in their business, which will provide stability for long-term growth in our region."
The three buildings will provide space for businesses in e-commerce, industrial service, high performance fitness, marine service as well as for private investors. Units will range in size from 2,500 square feet to 5,900 square feet.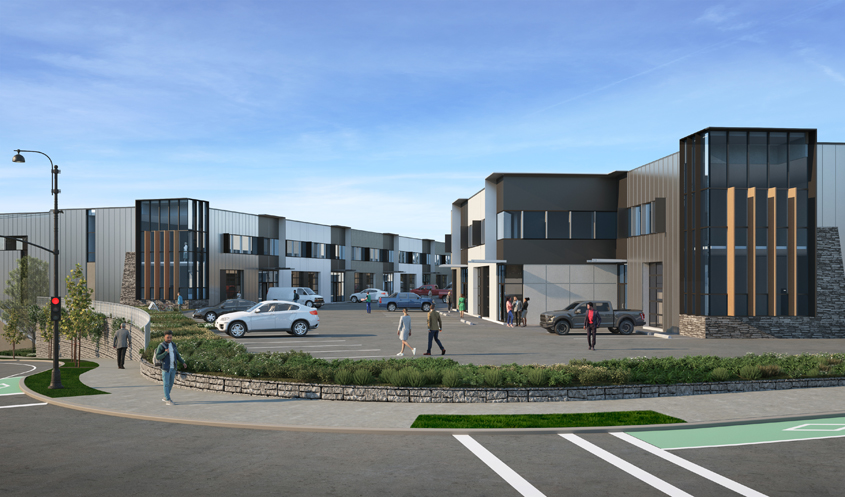 "Strata ownership opportunities for small and medium sized businesses in a land constrained community like Victoria continues to be in high demand, and our IntraUrban branded industrial projects have been recognized as providing high quality industrial strata industrial developments across B.C.," says PC Urban CEO, Brent Sawchyn.
"This site is in the heart of the Langford with quick access to the Trans Canada Highway. With the growth of ecommerce boosted by the pandemic, there are more opportunities for companies looking to leverage different ways of doing business. Industrial strata offers long-term security and growth for companies wanting to control their own destiny."