Forget what you remember about your grandmother's vinyl. Thanks to cutting-edge materials, contemporary designs, and advanced production techniques, the vinyl flooring of yesteryear has been replaced with a more resilient, healthier, and visually dynamic successor that is making a comeback in commercial and residential properties across the country.
The resurgence of vinyl can be attributed to any number of factors, not the least of which being its (now) attention-grabbing visual appeal that is being consistently recognized by interior designers for its value and functionality.
"The patterns of old were ordinary at best, but that's definitely not the case anymore," says Laura Piazza, Chief Operating Officer with 4 Corners, a specialist in luxury vinyl flooring. "The new patterns now provide 3D photo-realistic replications of natural materials, so you can have a floor with tactile surface textures and woven textiles in the wear layer that makes it actually look and feel like a wood finish, slate, or even concrete."
"Even after all these years working with vinyl, I still do a double take when I see how realistic it can be," she adds "I love showing people our flooring and seeing their reactions. They always reach out to touch it because it looks so real"
Yet while today's vinyl flooring can replicate natural materials, it is still vinyl (but that's a good thing). Floors laid with actual natural materials can be hard to maintain, whereas vinyl can be cleaned with a simple sweep and mop. Installers and contractors are also drawn to the product since it is easy to put down without the hassle of the old style click systems; and designers are specifying vinyl planks as a "floor of choice" for many applications from dental offices to hotel rooms.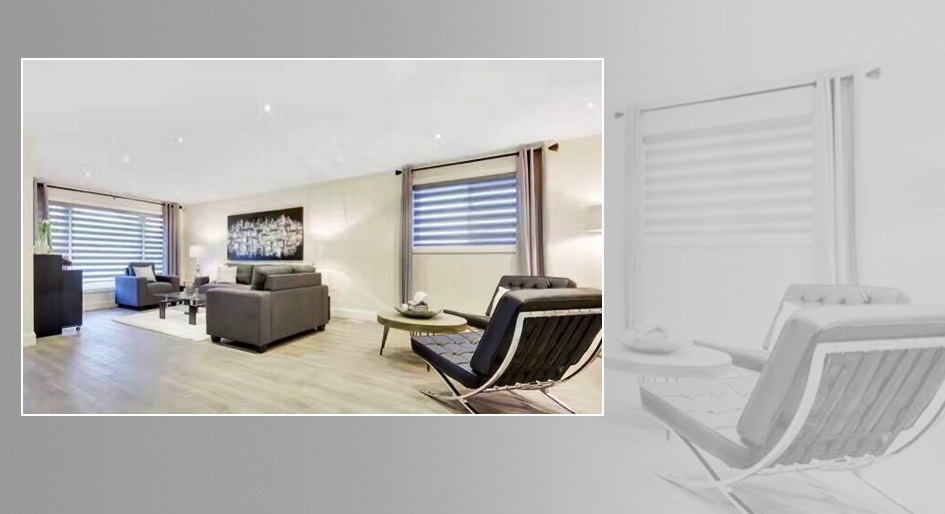 What's more, modern vinyl is manufactured to be water-resistant and resilient against scratches, stains, and scuffs that are typical in high-traffic areas such as lobbies, office floors, or hallways.
"The thicker your top coating (wear-layer) is, the longer your floor will last; and with today's vinyl planks and tiles, there are lots of options when it comes to that top coating," explains Piazza.
As an example, 4 Corner's own Malibu series of luxury vinyl flooring is 40% thicker than other products in its category, making it far less susceptible to damage. Other products, like its Luxury Vinyl Plank flooring, are formed with multiple layers of vinyl, fibreglass, and a soft backing, providing added protection and greater comfort for those who may be required to stand on it over long periods of time.
Vinyl is also the healthier flooring alternative. Beyond its inherent slip-resistant qualities, many vinyl products feature a polyurethane antimicrobial top coating system that eliminates and destroys up to 99.9 per cent of all bacteria and dirt. This makes them an ideal choice for retirement villages, healthcare facilities, and hotels. Moreover, vinyl floors do not produce off-gassing when installed, making them a more eco-friendly option and – for property stakeholders – an ideal way to meet green building standards such as LEED.
"The reason you find lifetime or 10 to 20-year warranties on vinyl flooring these days is because manufacturing standards have risen and these products are being made to withstand the test of time," adds Piazza.
In short, says Piazza, it really is what's inside vinyl that counts: "Manufacturing standards have thankfully risen in the past years, but in some countries more than others. We take pride that our manufacturer is in South Korea, which is one place that has banned phthalates, a known carcinogen in many plastics, and has better controls over the chemicals that go into the final product. At the end of the day, that does make a huge difference."
Vinyl in the spotlight
For many commercial property managers and residential home owners, the vinyl revolution has already begun. This is especially true in western markets like British Columbia where it is becoming the preferred option.
"We know property managers everywhere are converting to vinyl and getting away from carpeting. Vinyl is so easy to clean and doesn't retain smells or stains, so it's the perfect choice for hotels, rental, or condo properties," says Piazza. "You probably walk on vinyl plank or tiles every day at banks, retail stores, hotels, grocery stores, and even the local big brand coffee shops without even knowing that's what's under your feet."
Misconceptions and outdated perceptions may have slowed its adoption, but Piazza believes it's only a matter of time before the look, quality, and durability of vinyl leaves everyone floored, adding, "One of the things I love about my job is showing them how 4 Corners can give their project that 'wow' factor."
Laura Piazza is the Chief Operating Officer with 4 Corners, a leader in luxury vinyl flooring. For more information, visit https://4corners.ca/