On the path to sustainable living, every resource counts. And as building and facility owners and managers move towards greater energy efficiency, many are drawing guidance and ongoing support from Natural Resources Canada's (NRCan) ENERGY STAR® Certification program.
It's also about substantial savings. Certified buildings perform in the top 25 per cent of similar buildings nationwide.
TAKING THE FIRST STEP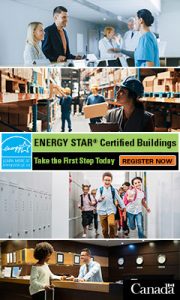 ENERGY STAR Certification is available to a broad range of commercial and institutional buildings ranging from medical offices to schools, warehouses to hotels and motels, and beyond. And while becoming a steward for energy efficiency can seem daunting at first, NRCan has fine-tuned the certification process to ensure it is anything but.
The process begins with NRCan's ENERGY STAR® Portfolio Manager®, a free, secure online energy benchmarking tool designed to help users monitor, rate, and optimize their energy consumption across their entire portfolio. Through this interactive platform, applicants are required to benchmark their property's energy usage against buildings of similar size and function and receive a score from 1 to 100. Applicants who score 75 or higher can then begin the online application process, which includes the requirement of an on-site assessment by a Licensed Professional (LP) to verify the information in the application prior to submission.
The rest is simple. Successful applicants will receive complimentary access to ENERGY STAR's promotional toolkit, resources to begin displaying their certification, and an entry in NRCan's online list of certified buildings.
Learn more about the ENERGY STAR® Certification application process: http://energystar.gc.ca/buildings
TIPS FOR APPLYING
NRCan's Portfolio Manager guides users through the application process from start to finish, but there are still several things to keep in mind when applying – either for the first time or for a renewal.
Application is free, LPs are not: NRCan levies no cost for certification. However, applicants are responsible for any costs associated with the on-site assessment and verification. The verifying LP can be an employee of the organization applying for certification.
Know what to count: Typically, an ENERGY STAR benchmark will cover a property's entire Gross Floor Area (GFA). Still, certain energy assets can be excluded from the assessment provided they are sub-metered. These include cell towers, parking garages, electric vehicle charging stations, outdoor and heated pools, or any billboards or projection screens on the property that are not directly related to the use of the building.
Take advantage of NRCan's resources: NRCan provides a wealth of online and in-person support to obtain and maintain ENERGY STAR Certification. This includes regular webinars offering training and information on Portfolio Manager, online FAQs, or its monthly newsletter, Heads Up: Building Energy Efficiency Newsletter.
DID YOU KNOW?
The benefits of benchmarking extend beyond ENERGY STAR Certification. Measuring energy usage on an ongoing basis can help spot trends, potential issues, and deviations in one's portfolio that can lead to larger opportunities. Consistent benchmarking can also help owners/managers prioritize capital upgrades and build strong arguments for retrofits and recommissioning projects. It also never hurts to be in the spotlight. While making their building a great place to work, those who routinely benchmark their energy usage and use that data to improve their operations can become certified and appear on NRCan's registry of certified buildings.
In addition, ENERGY STAR has a great brand recognition and ENERGY STAR Certification is a very cost-effective way to demonstrate commitment to energy management and protection of the environment.
The achievement of ENERGY STAR Certification also involves adherence to certain levels of indoor air quality, lighting, heating and cooling regulations, which shows a commitment to the pursuit of energy efficiency while at the same time maintaining high standards of comfort and safety for building occupants.
AN ONGOING JOURNEY
Sustainability is a journey. Similarly, ENERGY STAR Certification is awarded on an annual basis, encouraging program participants to maintain their energy-saving programs and initiatives on a year-to-year basis.
It's easy to get started, and everyone wins. Now is the time to take the first step to your building's ENERGY STAR certification and begin using the ENERGY STAR Portfolio Manager Tool.
If you have specific questions regarding ENERGY STAR certification for commercial and institutional buildings in Canada, please visit http://energystar.gc.ca/buildings
ENERGY STAR ELIGIBLE PROPERTIES
ENERGY STAR Certification is currently available to the following property types in Canada:
K-12 schools
hotels / motels
warehouses
medical offices
hospital
ice/curling rinks
commercial offices
senior care communities and residential care facilities
supermarket and food stores
retail stores
TAKING THE JOURNEY
Applying for ENERGY STAR Certification is easy. Take the first step and register for ENERGY STAR Portfolio Manager.