It's time to say goodbye to "business as usual." The 2020 pandemic has forever altered the commercial real estate industry, and conditions aren't likely to return to normal for a long time to come. The good news is that digital solutions are available that can help savvy CRE strategists manage today's chaos while protecting and strengthening their portfolios for tomorrow.
"If the experience with COVID-19 has taught us anything, it's that we need to be better prepared," says Michael Meltzer, Principal of Concatenate, developer of the Concatenate RealTime real estate business management platform. "It is imperative that CRE executives always know how their asset plans are unfolding and if their targets are being met. To achieve this, it is essential that you have a transparent view of the key work deliverables that must be executed for an asset to realize its maximum return."
Ahead are some considerations to help CRE teams meet their goals and position themselves for growth in a post-pandemic world.
Real-time planning
The annual Asset Business Plan defines the path by which CRE companies can achieve their primary objective: to meet their investors' targeted NOI (net operating income). The plan is produced by making assumptions on all the key deliverables (e.g., leases, capital improvement projects, mortgages, operating budgets) for the targets to be met. The individual teams responsible for producing key deliverables have a linear dependence on each other. As anyone who has ever been part of this iterative process can attest, however, it can involve months of agonizing and frustrating work.
Ironically, it's when the Asset Business Plan is completed that larger challenges surface. At this point, the plans are approved in printed documents, effectively freezing them in time. However, real estate operates in a dynamic world, and conditions change. Therefore, the plan's underlying assumptions need to be adjusted in response to the changing conditions.
Herein lies the problem: the assumptions are locked in because they're buried in the various systems and documents where they were created. As a result, updating Asset Business Plans with revised assumptions that reflect changing conditions is difficult at best. Moreover, it's not easy for CRE executives to get a clear picture of how their plans are unfolding at any given point in time. It's when they realize their plan's targets are not being met, and they need to re-forecast the balance of the planning period, that everything falls apart. With everything locked into PDFs, there is no choice but to go through the labourious planning process all over again.
The solution to this problem relies on transparency. That requires having a common enterprise platform for all the teams to share information, report on the status of their work, and exchange their deliverables once completed.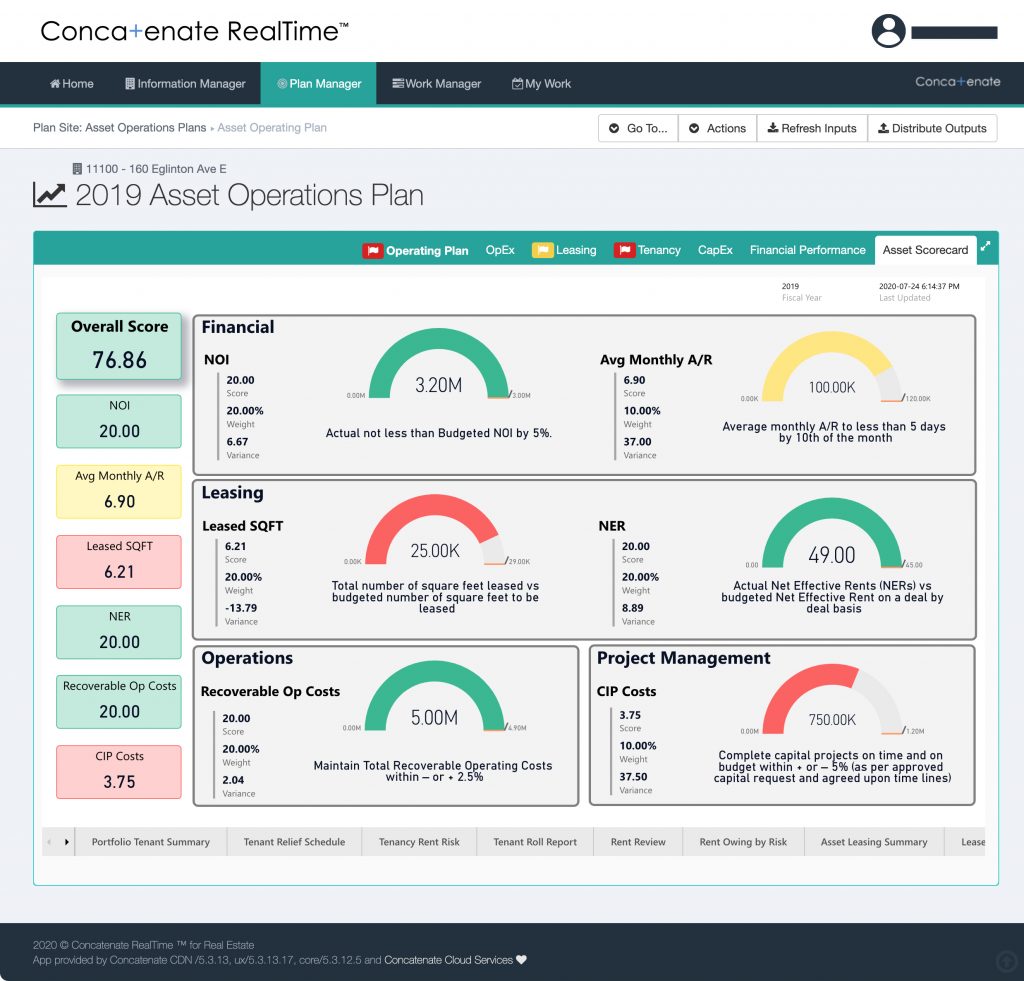 A connected team
The nature of CRE operations means that no one department operates alone. Unfortunately, few CRE companies have the systems in place to foster the collaboration required to execute a company's plan optimally. COVID-19 has added to this problem by accelerating the trend toward employees working from home.
"Take, for instance, a situation where a property manager needs to prepare a leasing forecast for the balance of the year," says Meltzer. "Because there is no shared information platform, getting this done often means contacting each listing agent or leasing rep. This is both tedious and a waste of time."
By contrast, uniting teams on a shared platform will facilitate well-executed plans and help ensure that targets are met.
Tech integration
Prop-tech has come a long way over the last five years. The CRE industry has been inundated with new and innovative line-of-business (LOB) solutions, each promising significant benefits. These LOB solutions require the exchange of output deliverables with one another and access to common asset information. The problem is that the solutions are stand-alone and often with overlapping functionality. As such, each organization needs to decide what its digital landscape is going to look like and how each solution will work with their enterprise accounting system. This can ultimately lead to the creation of even more data silos.
"CRE organizations have all these systems but no single, cohesive platform where teams can bring their deliverables together," says Meltzer. "This disconnect can undermine the Asset Business Plan, if not the organization entirely."
With this in mind, Meltzer has spent the last few years designing and fine-tuning Concatenate RealTime, a real estate business management platform designed to sit "on top" of accounting systems, spreadsheets, and LOB solutions. RealTime monitors work deliverables, integrates work processes, and provides instant status reports to all levels of the organization.
"The potential benefits to bringing solutions to these three issues are massive," Meltzer explains. "Not only do you get transparency into everything that's happening in your organization, with all work mapped back to the Asset Business Plan, but a platform like this allows leaders to make changes to any Asset Business Plan and then track those changes to ensure they happen."
CRE management 2.0
If there's one thing that the COVID-19 pandemic has made clear, it's that times are changing for CRE businesses. What hasn't changed is the need for CRE companies to preserve and build portfolio value by optimizing the management of their assets and planning for the future. This is easier said than done in today's demanding environment, but as with most modern challenges, people, processes, and technology are all part of the solution.
Michael Meltzer is the Principal of Concatenate Inc. Learn more about the Concatenate RealTime real estate business management platform at www.concatenateinc.com , email michaelm@concatenateinc.com or call 647-291-5987.