In small towns and remote communities throughout British Columbia, local residents are using sustainably harvested B.C. wood to build arts, cultural and community centres — places where people can play, gather and access services.
Many communities founded on forestry are returning to their roots by constructing landmark buildings and community amenities with local wood products and using local expertise, labour and manufacturers.
On the East Coast of central Vancouver Island, École au-cœur-de-l'île is a modern school by day and a hub for the local Francophone community at night. Sustainably harvested wood is used in McFarland Marceau Architects' plan throughout the building. Interior spaces use exposed glue-laminated timber (glulam) beams and mass timber panels to form unique reading alcove and multi-purpose spaces. The nearly 3,000-square-metre roof is made of timber. Reclaimed Douglas-fir from the site's previous building was used to create a 7.5-metre glazing wall, with more salvage wood used as benches and display cabinets.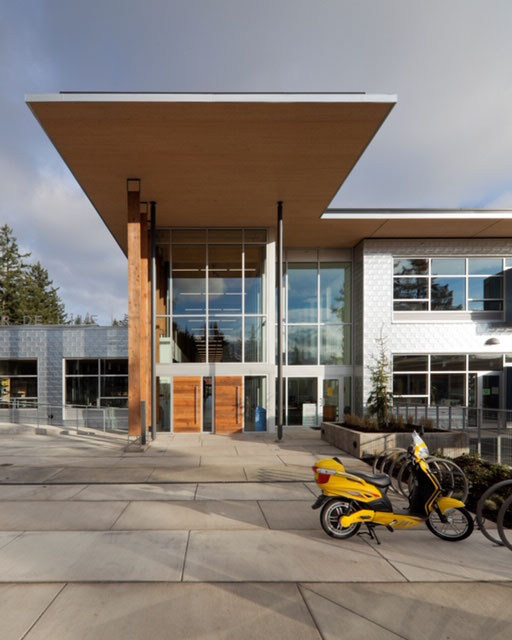 Wood is used extensively throughout École au-cœur-de-l'île, including a large-scale timber roof structure, creating a modern school by day and a hub for the local francophone community by night in Comox. Photo: Derek Lepper
Drawing on Vancouver Island's forestry origins, the Cowichan Lake Sports Arena's revitalization was built in part with 15 truckloads of wood products donated by local logging companies and distributors. The heavy-timber hybrid structure, located west of Duncan, features glulam beams with solid-wood decking and exterior tongue-and-groove western red cedar cladding. A dramatic entrance leads inside where birch-plywood millwork is featured. Designed by HDR | CEI Architecture Associates Inc., the arena includes warm viewing areas, multi-purpose rooms, and dressing rooms tailored to local curling and hockey teams.
Located in Hazelton, the Upper Skeena Recreation Centre is a practical and beautiful structure that was made possible through grassroots community involvement. Designed by Hemsworth Architecture, the centre replaces the community's former arena. It has an NHL-sized ice rink with seating for 500, a gymnasium and areas for community programs. The exposed wood roof, supported by glulam beams and columns, is an economical framing solution. Simplified construction methods for the roof and exterior walls, which are made with plywood and dimension lumber, deliver added cost savings. The wood wall and roof panels were prefabricated by local workers and then dropped into place, speeding up construction.
To showcase the Prophet River Multiplex's dramatic wood structure, David Nairne + Associates Ltd. featured a fully glazed atrium that extends the entire length of the building, filling the interior with natural light. The linear lobby is a Douglas-fir glulam post-and-beam system; opposing posts form a triangular pattern. The interior of the building features decorative wood finishes. In the gymnasium, Douglas-fir plywood on the walls and Douglas-fir boards on the ceiling provide a robust and durable finish for sporting activities and present a warm and welcoming atmosphere when the space is used for feasts and events. The building provides administrative space, council chambers, a health and community centre, and an Elders' lounge. Building with wood in the region has a history that dates back thousands of years, and community members were involved in the construction.
These projects and others are featured in a newly released book, Naturally Wood, which showcases B.C.'s cutting‐edge wood architecture and design. The beautifully illustrated, 160-page publication contains more than 65 innovative wood buildings and projects, including how wood is being used in community and culture.
Four continuing education units have been developed based on the book. They are recognized by the Architectural Institute of British Columbia and are available at naturallywood.com/naturally-wood-ceus.
Download the Naturally Wood e-book at naturallywood.com/nwbc.