Tile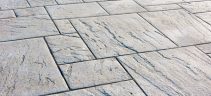 Design Quarterly
The TTMAC's master specification guide is a tool to assist in editing specs needed to describe the installation and performance requirements of tiles.
Canadian Facility Management & Design
Looks matter when selecting new hard-surface flooring for interior spaces in commercial buildings. But so does the choice of underlayment.
Design Quarterly
Ink-jet technology represents a new system of floor and wall tile decoration that is positioned to alter the way ceramic and porcelain is decorated.