Floors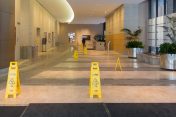 Facility Cleaning & Maintenance
During winter weather, facility floors can suffer from snow, ice, salt, and sand being tracked throughout a building.
REMI Network
Here is a cleaning checklist to help protect floors before and after an unexpected weather event.
Facility Cleaning & Maintenance
Cleaning healthcare facilities presents a unique challenges due to the presence of pathogens that require a higher cleaning protocol.