Another condo coming to downtown Toronto's evolving skyline will be Canada's tallest once it rises to 95 storeys at Yonge Street and Queens Quay.
At more than 1,000 feet high, SkyTower promises a mix of 840 one- to three-bedroom units starting in the $800,000s, which for many is a reasonable price given the location, its high-end features and the fact that there really isn't enough supply to keep up with demand.
Jamie Johnston, broker of record and owner at RE/MAX Condo Plus, which is selling some of the units, says he has seen the average price of an entry-level condo jump from $500,000 to about $600,000 in the past 15 months. In downtown Toronto, the asking price stands between $1,200 and $1,400 per square foot, with SkyTower on the high end of that spectrum; its suites ranging from 520 to 2,300 square feet.
"They're going to sell this out because there's a shortage of larger units in downtown Toronto," says Johnston. "There are also going to be lot's of amenities; it's hooked into the Path and right at the waterfront. One of the reasons people want to live in condos is because they want to walk everywhere. It's a prime location."
The condo will be the second of three residential towers, part of a 2,200-unit development at Pinnacle One Yonge, where a 65-storey condo called The Prestige is currently on the rise. Mixed-use space will ground the 4.4-million-square-foot residential development with two office buildings, retail, a 2.5-acre public park, hotel and community centre.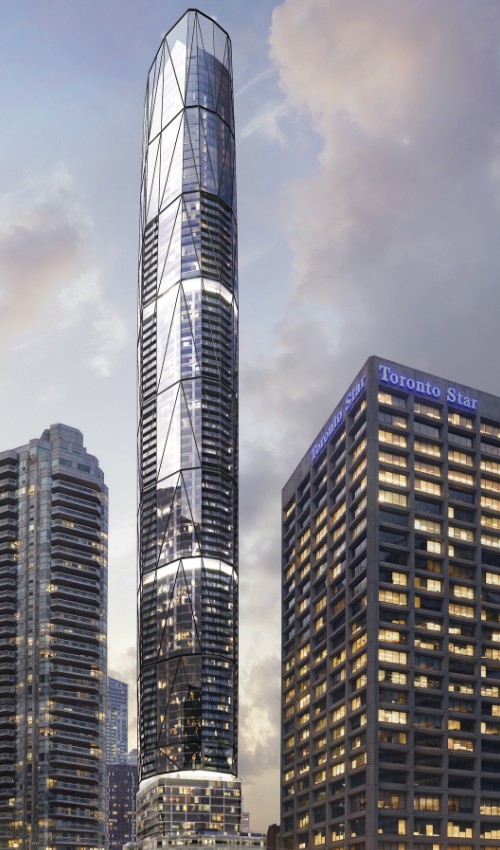 "The homebuyer is looking at local amenities to add to quality of life," notes Mark Tang, sales representative at Trace Property Group. "With proximity to TTC, walking distance to restaurants, cafes, grocery stores and entertainment venues including Scotiabank Arena and the Harbourfront Centre, this project will do very well with selling the 800 units that have been released."
Developer Pinnacle International, along with designer Hariri Pontarini Architects and interior designer Tanner Hill Associates Inc. have also planned for building amenities both functional and aesthetically pleasing. An indoor play area for kids, a pool, yoga studio, and outdoor terrace with barbecues, are just a few.
Underground parking will be equipped with cameras, placed in pre-selected locations with two-way voice communication to concierge, while every level will feature waste management and recycling systems.
When SkyTower finally does sprout up, with occupancy starting sometime in 2024, it will stand taller than The One and YSL Residences, which are on track to exceed the height of First Canadian Place—currently the tallest skyscraper in Canada.
Pinnacle's vice-president of sales and marketing Anson Kwok noted, in a press release, that the location of One Yonge demanded an "iconic architectural statement." Interest is expected from young professionals, move-up buyers, move-down buyers and young families, to name a few.
"Our approach to this phase, and the other elements of this master-planned development, was predicated on a commitment to not just merely add yet another condo to the downtown core," he said. "Instead, we recognized the unique privilege provided by this site to forever reshape the Toronto skyline."