Hariri Pontarini Architects
REMI Network
The Helga and Mike Schmidt Performance Terrace and the Reed Family Plaza mark the final phase of the ROM's Welcome Project.
Design Quarterly
Three projects have been shortlisted for the 2019 RAIC International Prize for socially transformative architecture including one by a Canadian firm.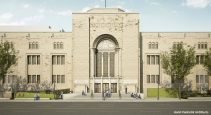 Canadian Facility Management & Design
The Royal Ontario Museum (ROM) has reopened the 84-year-old Weston Entrance to the public following a refurbishment as part of its Welcome Project.