Whether it's a tree-trimmed podium or a below-grade plaza deck, outdoor amenity spaces are subject to vigorous deterioration in most residential developments due to their sustained exposure to moisture, thermal changes and general wear and tear. But, as valued as these features are, the cost and inconvenience of undergoing a complex replacement job is not likely to be met with resounding approval given the financial constraints and competing priorities typically faced by condominium corporations.
"One of the few items condo owners cannot individually control is the curb appeal of their building," says Nigel Parker, Structural Engineer and Associate at RJC Engineers in Toronto. "However, keeping the podium in a state of good repair can set expectations for the property as a whole. Unit owners who invest in maintaining these systems can expect their properties to be valued greater than comparable properties where there is significant deterioration."
In other words, regular preventative maintenance is critical. Identifying issues early could help stave off the unwanted expense of a full deck or podium replacement while ensuring an aesthetically pleasing space where "trip and fall" hazards are less likely.
The deterioration of a podium deck typically occurs in one of two areas: on the structural elements themselves—i.e. the suspended slabs, walls, columns, etc.—or on the surface finishes. "A lot depends on the effective service life of the waterproofing system assembly below it," says Parker.
The most common (and costly) issue is when moisture infiltrates into the areas beneath the podium deck where it isn't obvious to the eye. While a declining surface finish can be unsightly and has the potential to be a tripping hazard, structural damage from moisture infiltration is what hastens major repairs.
"A comprehensive annual maintenance program is the best way to ensure that the podium deck finishes and waterproofing system perform as intended," advises Parker.
This program should include at a minimum: annual reviews for moisture infiltration; cleaning of the podium deck and drainage system; reviews of the surface finishes each spring to determine potential damage as a result of snow removal; and periodic comprehensive detailed condition survey assessments by a professional engineer.
While all condominium plaza and podium decks will require localized repairs at some point— typically in the early to mid-life cycle stage of the waterproofing system or on an "as needed" basis—major repairs generally won't come until the end of the podium deck waterproofing system's effective service life. "If the structural elements of the podium deck are exhibiting significant deterioration, then major repairs are likely required," warns Parker.
The most obvious sign that a system has reached the end of its life is when leakage occurs into the parking garage, or occupied spaces below.  "This happens when an aging waterproofing system loses its elastic properties, which limits its ability to bridge cracks and results in the infiltration of moisture," he says. "Another tell-tale sign is when surface finishes are no longer performing adequately. In this scenario, a detailed assessment of the structure—including test pits to expose the waterproofing system—is strongly recommended to determine if the podium deck waterproofing system needs to be replaced in its entirety, or locally repaired."
Budgeting and Scheduling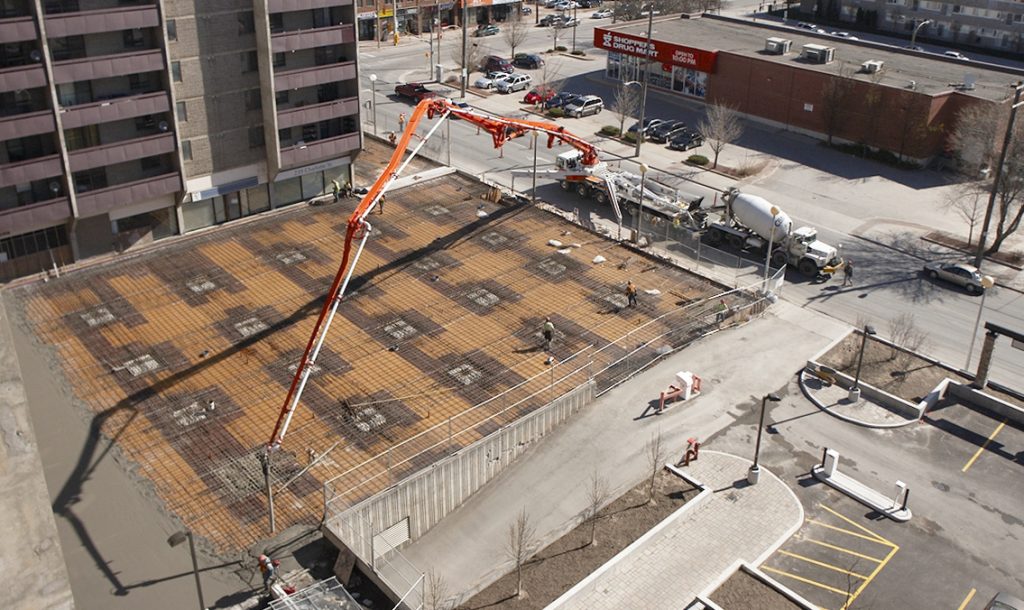 Because podium deck repairs are often limited by financial constraints, as well as the time required to properly implement a renewal plan and get buy-in from unit owners, a detailed condition survey assessment that includes test pits will help ensure the allocated capital within the reserve fund is adequate.
"Once a repair strategy is determined, a design team should then be selected to assist the corporation in fulfilling its goals," says Parker. "Sufficient time must be allocated between the concept design stage and construction in order to meet the requirements of the corporation and to ensure adequate owner input and consultation."
As for the best time to undergo repair work, Parker recommends early spring in order to maximize the available construction season.
"The design work should be completed during the winter with a tender period toward the end of the winter season at the start of the new year," he says. "This will allow the corporation to obtain prices prior to the busy summer construction season, which in turn, leads to lower project costs."
For more information on plaza deck repairs and restoration, please visit www.rjc.ca. Click here to contact Nigel Parker directly.