Ontario is selling the LCBO head office lands near the Toronto waterfront to Menkes Developments Ltd. for $260 million.
Plans for a mixed use development, soon to be unveiled, include a new, 'multi-dimensional, 24-hour residential community, with a two-acre park. Also, set to rise on the 11-acre property are new LCBO head offices and a 25,000-square-foot flagship retail store that will both be housed in a Class AAA green office tower built to minimum LEED Gold Standard and targeted for LEED Platinum certification.
"There is strong and growing demand for new, high-quality office space in downtown Toronto," said Peter Menkes, president of the commercial and industrial division of Menkes. "Corporations and their employees have a desire to be in the core, close to Union Station and the revitalized waterfront, and in a leading-edge facility that is built and operated in the most environmentally sustainable manner."
The 24-storey office tower, with 300,000 square feet of retail space, is designed by B+H Architects. Construction is expected to start in Fall 2017. Once completed in early 2021, about 4,000 to 4,500 people will work there. LCBO will be a major tenant accounting for 33 per cent of the building. The existing LCBO warehouse operation on the property will be moved off-site.
"The new flagship Queen's Quay store will ensure this growing, vibrant waterfront community has continued and enhanced access to convenient, one-stop beverage alcohol shopping," added George Soleas, acting president and chief executive officer of the LCBO.
Menkes Developments Ltd., on behalf of a partnership between Menkes, Greystone Managed Investments and Triovest Realty Advisors, won a bid for the real estate after Infrastructure Ontario issued a Request for Proposal for the sale in September 2014.
Revenue will be invested into the Trillium Trust, which funds transit, transportation and other key infrastructure projects.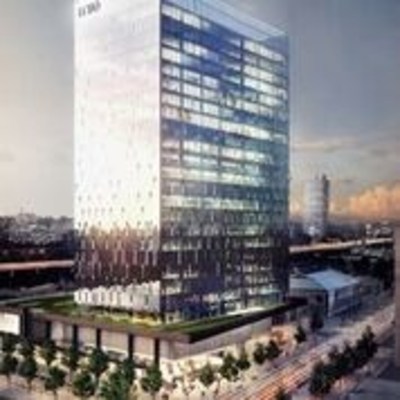 Photo courtesy of Menkes Developments: View of proposed office tower at 100 Queens Quay East.