When it comes to condo maintenance, planning ahead can pay off. Detecting and addressing minor issues on a building's exterior or mechanical systems is a proven way of significantly reducing the cost of future repairs and avoiding resident inconveniences. Not to mention, building envelope repairs can often contribute to energy savings, while ongoing preventive maintenance to the building envelope will extend its service life.
The following is a run-down of key building envelope inspection areas and simple preventive maintenance actions that can be undertaken now to prepare for the season ahead.
Mechanical systems
Replace air filters in the building's primary make-up air units, as well as in suites with heat pumps or fan coils. Dirty filters can decrease airflow in the system and force fans to work harder, thereby decreasing the service life and increasing operating costs. They can also reduce indoor air quality (IAQ) and, in so doing, increase the potential for mould growth. As such, plan to replace air filters about four times a year.
Operate all valves that are part of the domestic plumbing and hydronic HVAC systems at least two times a year. These valves can remain in the same position for years if not exercised as part of a maintenance program, and there is no worse time to discover a valve has seized than when a shutdown is required.
Complete full seasonal maintenance on boilers and chillers/cooling towers, as recommended by their manufacturers. These are best completed during the change-over between heating and cooling seasons.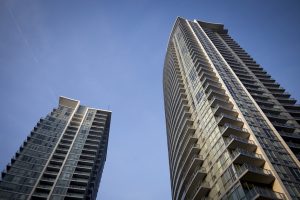 Exterior walls
Look for wetting patterns, efflorescence (salt deposits), and deterioration below the corners of metal window sill flashings. These are indicators of poor rain deflection at the ends of the sills.
Install drip deflectors at the ends of window sills to promote water flow over the sills and not on the walls.
At areas of deterioration, look for wetting patterns and details causing poor deflection of rainwater. Correct poor rain/snowmelt deflection details.
Install metal drip flashings over brick window sills and at top of masonry walls without flashings since the brick will typically deteriorate much sooner without this protection.
Raise the height of the grading around the foundation walls where they are settled to promote drainage away from the building. This will reduce the risk of leakage and deterioration of the foundation walls.
Check that roof downpipes and troughs are clear, connected, and directing water away from the building.
Test and check that sump pumps are working properly and are discharging water away from the building.
Sealants (Caulking)
Regularly replace failed sealants (caulking), where provided, to control water penetration and air leakage. Sealants should perform adequately for 10 to 15 years when proper materials and installation practices are employed
Windows and doors
Regularly replace worn and damaged weather-stripping at door and operable window perimeters. Maintaining tight air seals is necessary to control air leakage and drafts which in turn reduces heat loss and energy consumption. As well, tight seals also control rainwater penetration.
Try to use other means of ventilation (e.g., kitchen and bathroom exhaust fans) during colder weather when an apartment does not have an automatic mechanical ventilation system. This is particularly important for apartments with hot water heating and radiators below windows to avoid the potential for burst pipes. If a tenant turns an in-suite thermostat on low and leaves a window open there is an increased risk for a costly pipe burst.
Flat roofs
Remove debris and vegetation at roof drains. Be sure to remove debris at the level of the waterproofing membrane as well for protected membrane systems.
Have a qualified contractor and/or consultant to assess the condition of the roofing system every year or two.
If your roof has recently been replaced, ensure regular warranty inspections are performed to ensure the warranty is not voided.
Sloped roofs and attic spaces
Arrange for an experienced contractor to access the attic space to seal pipe, exhaust duct, wiring and electrical box penetrations at the level of the drywall ceiling and air/vapour barrier. This practice will reduce air leakage from the building interior into the attic space thereby reducing heat loss and energy consumption. These measures will also significantly reduce the risk of ice damming along the roof eaves.
Check the level of insulation. The Ontario Building Code requires a minimum thermal resistance for attic insulation. Although you are not required to upgrade to meet the current code, it may be a good time to consider adding to the existing thickness of the insulation.
Check that adequate venting at the soffit and roof vents is provided and that the soffit baffles are not blocked by insulation to reduce energy/fuel consumption from not only heating, but cooling. Proper venting will extend the life of asphalt shingles and reduce the risk of ice damming provided air sealing at the level of the ceiling is done first.
Install downpipe extensions from upper to lower roofs to avoid accelerated shingle deterioration from increased water runoff and ice damage.
A little preventative maintenance goes a long way towards mitigating larger issues. And as with any building maintenance program, there is value in partnering with qualified contractors and consultants who can leverage their experience to assist with assessing and repairing complex issues.
Dave Moore is President of Pretium Engineering Inc., a specialist building science, structural, and mechanical consulting engineering firm that provides high-quality, evidence-driven services. Contact a local office to see how "Working Together, Better" can work for you.
—