CBRE's Vancouver office is the first in the city to receive WELL Certification, which focuses on enhancing employees' health and wellness through the built environment.
The office, which occupies four floors in Oxford Properties' MNP Tower, earned certification at the gold level for New and Existing Interiors. The space incorporates more than 100 wellness features, such as universal access to natural light for all employees, ergonomic sit-stand desks and noise-cancellation diodes to reduce stress-inducing background noise.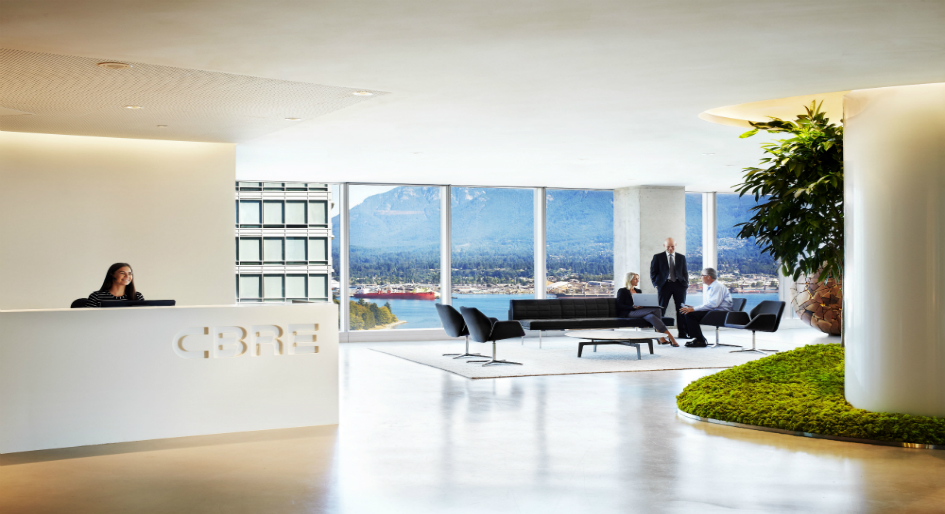 In Canada, CBRE has been pioneering the standard, which assesses, monitors and tests spaces across seven wellness categories: air, water, nourishment, light, fitness, comfort and mind. CBRE is responsible for four out of the first 10 WELL-certified projects in the country.
"Our decision to be first-movers in pursuing this pioneering certification reflects our belief that the office environment can, and should, add to the health of your people, and that true market leadership is about taking bold steps for the future," said CBRE Canada President and CEO Mark Renzoni.
To comply with the standard, the office made sure that internal air quality was within the top one per cent globally. When its filtration system detects a need for fresh air, it pumps in new air from outside the building, as opposed to recycling old air. The office also stopped eating at desks during lunch to encourage stress-free screen breaks at the Rise café, and connect with colleagues.
"Since 2015, in offices that have undergone our workplace transformation, we have seen our total employee turnover rate fall by almost a third and, in the same period, we've doubled our hiring rate of new talent," says Ashley O'Neill, vice-president of corporate strategy. "Not only is WELL Certification helping to differentiate us as an employer that is prepared to invest in the health and wellness of its people, but, as it represents the leading edge of office design, it's also differentiating us as a commercial real estate advisor."