Scotiabank
Canadian Apartment Magazine
Scotiabank announced it will be aligning with CMHC to mobilize $10 billion over the next ten years to support the creation of new affordable housing.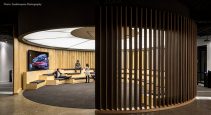 Canadian Facility Management & Design
The half-pixelated gear that hangs above the entryway symbolizes the output of Scotiabank's new Digital Factory in Toronto.
REMI Network
Brookfield Canada Office Properties plans to lease 140,000 square feet of space at Brookfield Place Calgary to Scotiabank, beginning late 2017.