Premier John Horgan
Construction Business
LNG Canada has announced that its joint venture participants have taken a Final Investment Decision to build the Kitimat LNG Canada export facility.
Construction Business
Opposition to the B.C. government's Community Benefits Agreement continues to grow with VRCA joining business groups against the model for public projects.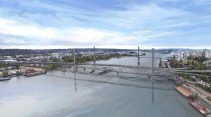 Construction Business
The B.C. government is moving forward with the construction of a $1.4-billion bridge to replace the aging Pattullo Bridge.