jobsite safety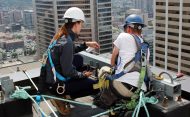 Canadian Property Management
Whether working on an active construction site or in an operations and maintenance setting, fall protection planning is a critical step.
Facility Cleaning & Maintenance
Virginia, the first state to introduce a temporary workplace virus measure last year, has voted to enact a permanent ruling.
Construction Business
Saskatoon-based myComply has launched its flagship solution to reduce risks by making it easy for general contractors to verify safety certifications.