Green Line LRT
Construction Business
City of Calgary has named PCL Construction as the construction management contractor for the Green Line utility relocation project.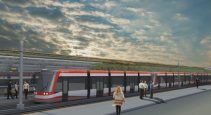 Construction Business
Calgary is moving the Green Line LRT project forward with the approval of the updated Stage 1 alignment along with changes to construction staging.
REMI Network
Calgary's Green Line Light Rail Transit project has received a historic federal funding investment of up to $1.53 billion.