infrastructure projects
Construction Business
Alberta is accelerating infrastructure and transportation projects across the province to get thousands of back to work and the economy back on track.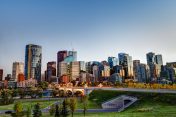 Construction Business
Close to 30 major infrastructure projects and more than 40 road repaving jobs are planned this summer in Calgary, part of a $441 million investment.
REMI Network
Calgary's Green Line Light Rail Transit project has received a historic federal funding investment of up to $1.53 billion.