consumer confidence
CondoBusiness
New government policies are leading consumers to have a more negative outlook when it comes to the housing market in Canada, according to a new report.
CondoBusiness
According to a new survey conducted for the Real Estate Council of Ontario (RECO), age and experience account for the biggest differences in consumer confidence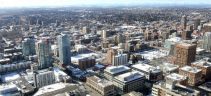 CondoBusiness
Across all housing types, January sales were 35 per cent lower than the 10 year average in Calgary, Alta., due to weakened economic conditions and a resulting lack of consumer confidence. At the same time, new listings rose 39 per cent, year-over-year, greatly impacting inventory levels.