JAC Condos, a 34-storey development that will bring more housing options to the growing downtown eastside of Toronto, started its ascent this week.
At Jarvis and Carlton streets—where the groundbreaking took place—members from Graywood Developments and Phantom Developments gathered to celebrate a project rising within one of Toronto's most historic neighbourhoods.
"A lot of time was spent trying to get the details right," said Neil Pattison, Senior Vice President, Development at Graywood. "That meant acting quickly to save and preserve the historic mansion on site, developing an amenity program that resonates with future residents, and making sure the unit mix would help unlock housing supply in the downtown east."
Suites there will range from studios to three-bedrooms. At grade, the building's podium is divided into two main pieces. The new-build-portion will be clad in brick and feature the building lobby, complete with an outdoor courtyard, fireside lounge and a gallery space.
A restored heritage house will feature the original north and east facades of the 1902 Beaux Arts Mansion on site. This reimagined space will serve as a gathering place for building residents, including a fully wired tech lounge, coffee bar, library and multiple flex spaces to facilitate working and learning. A serenity room and yoga studio will balance the focus on work.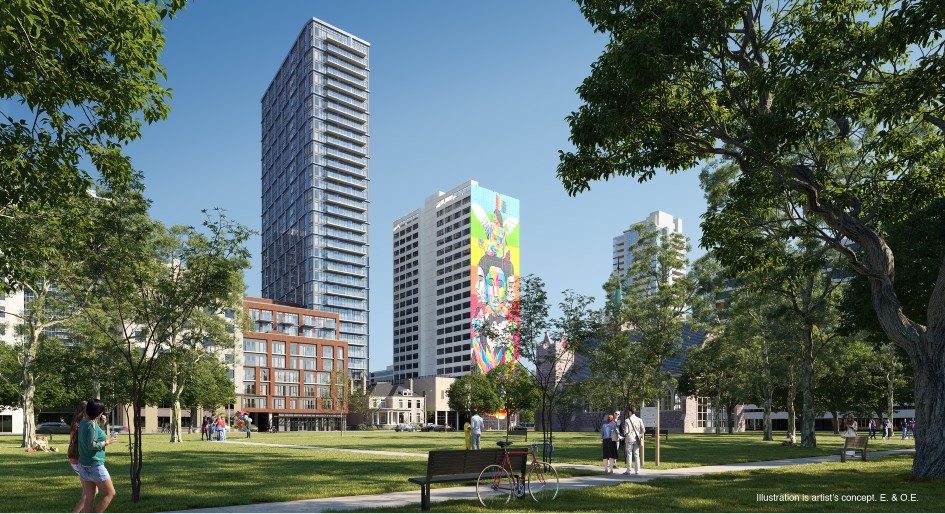 Graywood and Phantom were attracted to the site back in 2019. Ryerson University is projected to have 65,000 students by 2030, so the need for housing in the area remains high. The location is also close to parks, hospitals, Eaton Centre, multiple employment nodes and Allan Gardens.
"It's our responsibility to live up to what's already here and to help define a new era for Jarvis and Carlton," said Henry Strasser, Phantom Developments. "It's also our responsibility to state clearly that we continue to believe in downtown and the distinct lifestyle it offers."
Architecture for JAC Condos was helmed by Turner Fleischer Architects. A pattern of prismatic, extruded aluminum modules were incorporated into the facades of the tower to add animation with depth, texture and colour. The modules will be treated with special paint, changing colour depending on the angle of the viewer and the position of the sun.
Tomas Pearce is overseeing the interiors, which will offer a strong, modern aesthetic that is sympathetic to user comforts. Natural, sleek materials are paired with deliberately designed amenity spaces that cater to all types of activities.
JAC Condos marks Graywood's fifth Toronto project under active construction.