The Canada Green Building Council (CaGBC) has picked a diverse set of 16 green building projects across Canada to participate in a two-year pilot of its Zero Carbon Building Standard.
The standard, which assesses the carbon performance of commercial, institutional and multi-family buildings and warehouses, will be formally released on May 29 in Vancouver.
The projects showcase the broad applicability of the program, with both new and existing buildings, ranging from 20,000 to 1.3 million square feet. Projects were chosen for their "ambitious environmental leadership and potential to aggressively raise the bar for carbon emissions reduction in Canada."
"The CaGBC Zero Carbon Building Pilot Program was designed to recognize leadership excellence in Canada's building industry, and I am pleased to say that these projects truly meet that ideal," says CaGBC President and CEO Thomas Mueller. "We have great diversity in these pilot projects, demonstrating that zero carbon buildings are achievable in all regions across Canada. It is the combination of innovation and the broad adaptability of this Standard that will contribute to the shift to a low-carbon economy."
The CaGBC Zero Carbon Building Pilot Program projects are listed below, with the exception of those who wish to remain confidential at this time. To view project profiles, renderings and other details on the Pilot Projects, visit cagbc.org/zerocarbonpilots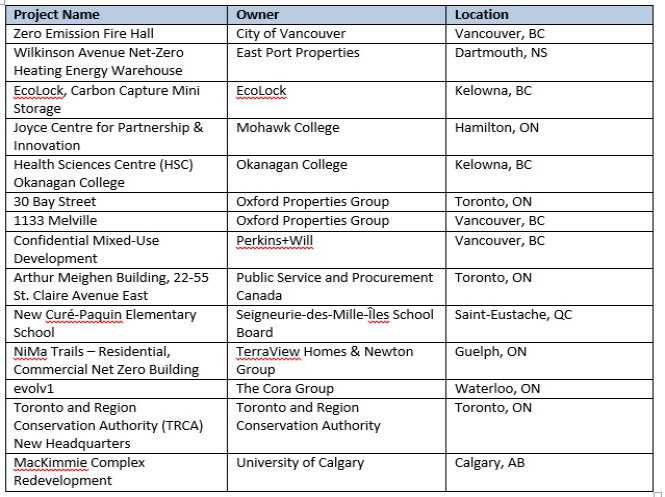 Industry is encouraged to attend the Net Zero Carbon Buildings Summit on May 30 in Vancouver, which will discuss the new standard in detail, along with a full stream of education content focusing on Zero Carbon Buildings at Building Lasting Change 2017, which begins the following day, May 31.
For ongoing updates about the CaGBC Zero Carbon Building initiative and standard as it becomes available, visit cagbc.org/zerocarbon.