It's generally wellunderstood that good communication helps keep things running smoothly in a condo corporation. Good communication supports activities such as rules enforcement that serve to maintain the property as a nice place to live and therefore preserve property value.
Recently, this author's company signed on a condo corporation that was keen to make the most of its new elevator screens as a communication tool. The board of directors, along with many tidy residents, had lost patience with the folks who continued to make a mess of the chute rooms, and they thought it was time to get tough.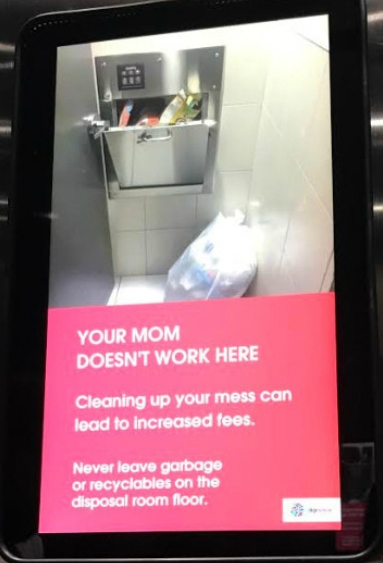 One of the first notices that was created to tackle the problem (pictured left) was produced prior to any creative brief, which is developed through a sit-down between the creative lead, board and management team. There was some surprise when a resident took offence, claiming that the text "Your mom doesn't work here" was sexist and suggestive of the antiquated idea that a mother's role is to clean up after people.
But whether one agrees with that opinion or not (this business owner and mother of four teenagers didn't take offence), there are a few things wrong with this picture that can be avoided through careful, upfront communication planning.
Watch the tone
While the aim was to get tough on the litterbugs at the site, the tone of this notice is a bit harsh, and it all boils down to one word — "never."  Using words like "don't" or "never" or YELLING IN ALL CAPS are generally not too productive. Most people do their best listening when they detect whispering, and while the digital equivalent of a whisper takes practice, it's very important to master if the audience is to notice, retain and heed the message.
Know your audience
One of the most important things to do when broadcasting is to have a pretty good sense of who the audience is. That means understanding demographics such as age, gender and income — anything that gives insight into who the audience members are and who they perceive themselves to be.
This often requires ditching pre-conceived notions, too. (Contrary to popular belief, seniors have been the fastest growing segment of tech adopters.)
Ditch the pic
Many, many times representatives of condo corporations have sent pictures of garbage, cigarette butts, even cars crashed into garage posts with the request to post IMMEDIATELY!!! (Yes, the caps were included.) Some even had angry red arrows, circles and other lines to make sure the viewer didn't miss the point.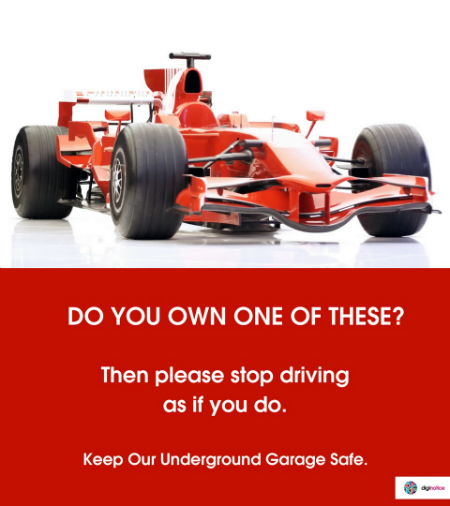 This practice is generally discouraged because it can come off as tattletale-ish and finger-wagging — two practices that are more likely to have the opposite effect of what was intended. People who get told what to do can come right back and tell the messenger what to do (or where to go). Not only that, but garbage rooms are not generally the prettiest picture to display in the elevators for all to see (including would-be unit purchasers). Better to be subtle and get the audience's attention and yes, even admiration, as in a notice that compared speedy drivers to race-car drivers (pictured right).
Pick your battles
Some notices are purposely designed to shock and jolt the audience into a behaviour change, and that's totally okay.
A "shame campaign" from a year or so ago got major reaction — and major results. Residents were quite upset when their inconsiderate behaviour was brought front and centre for all to see, but the facts were the facts. The board stuck to its guns and after just three days on the elevator screens, the difference on the property was quite pronounced.
In the case of the notice about the chute rooms, if someone perceives a message to be sexist, it may be best to remove, reword, or rework it entirely. It's usually just a simple matter of careful thought and planning to achieve an eye-opening notice without offending, or at least without offending the non-target audience.
The creative brief
As mentioned, the chute room notice was created before the creative brief was developed.
Establishing a creative brief upfront is absolutely critical to the success of a communication strategy. The process starts with an in-depth discussion between the board of directors and/or management team and the creative lead. Board members should be involved initially because, as residents, they have a unique perspective and can share their goals and objectives. It also helps to get the board and the management team on the same page, because quite often the communication priorities of one are quite different from the other.
Whether messages are intended for elevator screens or elsewhere, careful planning is key to good communication, and nothing keeps things running smoothly in a condo community like good communication.
Sue Langlois is the founder/CEO of DigiNotice, a digital display and creative notice service designed specifically for condos. Sue is on the CCI-Toronto board of directors and serves on the communication committees for both CCI-Toronto and CCI-National. She contributed the Communications chapter of CCI-T's Board of Directors' Tips, Tools and Techniques. Sue can be reached at sue@digi-notice.com.
The preceding article has been adapted and reprinted with permission from the Digi-Notice blog: https://digi-notice.com/anew/category/blog/.