A high-end condo project called 10 Prince Arthur is moving forward in the Yorkville-Annex neighbourhood of Toronto.
Developer North Drive has teamed up with architect Richard Wengle, interior designers Brian Gluckstein and Michael London, and landscape architect Janet Rosenberg to collaborate on a boutique community with expansive terraces and customizable suite layouts. Residents will have the option to combine units. Configurations include two-bedroom and three-bedroom layouts ranging 1,430 square feet to 5,920 square feet.
Prices are expected to range from $3 to $15 million.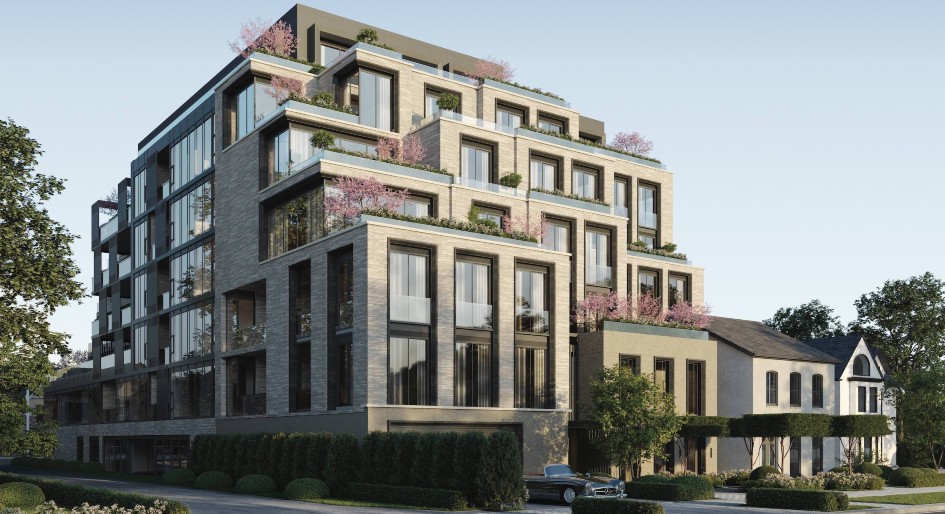 At seven-storeys high, the design will include 28 units. Each residence offers a spacious floorplan averaging 2,500 square feet. The architecture is said to blend clean, contemporary lines with carefully selected materials.
"When you own a suit that is handmade, and you see the stitching, you appreciate the kind of craftsmanship that went into making it, said architect Richard Wengle. We tried to apply that mindset to this project. We're using handmade brick from Denmark, as well as an Indiana limestone and a second Algonquin limestone from Northern Ontario. There is going to be a lot of texture, and a mélange of colours that inform the details of the building. It's a sophisticated, intentional palette."
The building itself steps back in the front and back, allowing residents to enjoy both privacy and cityscape views. The collection of outdoor spaces is imagined as natural extensions of the interiors, with opportunities for artful landscaping and furniture. The terraces offer an outdoor oasis in an urban setting for each resident, while contributing an organic, sculpted layer to the overall architecture of the building.
"For the purchaser, moving into a boutique community like this is not about downsizing, but more about the reorganization of their living spaces," says Gluckstein. "Some purchasers might have the same size apartment as their single-detached house, but instead of six bedrooms, they might have a grander dining room or his-and-hers bathrooms. It's about reallocating the way you live—rightsizing rather than downsizing."
10 Prince Arthur marks North Drive's fourth project with Wengle and London, and their third project with Gluckstein and Rosenberg.
"With each project we're more dialed-in and attuned to the needs of our purchaser," said North Drive co-founder Jordan Morassutti. "We have the mandate to emphasize the unique characteristics of a project like 10 Prince Arthur, and the benefit of knowing that we've done this before at the highest standard. Ultimately that confidence gets passed on to the buyer."