new apartment constuction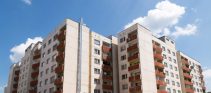 Canadian Apartment Magazine
More than a year after the Fair Rental Act was introduced, rent control is back in the spotlight with new research suggesting it is doing more harm than good when it comes to rental construction and affordability.
Canadian Apartment Magazine
New rental construction is a hot topic these days, but the headlines don't tell the whole story. Construction financing is complicated and only a small percentage of deals are truly viable. Find out what three key considerations govern all successful financing outcomes.