Edmonton apartment market
Canadian Apartment Magazine
Killam Apartment REIT recently acquired two new properties in Edmonton and Moncton for a combined total of $41 million, continuing its ongoing expansion into new markets.
Canadian Apartment Magazine
Altus Group's latest report on investment shows that both Calgary and Edmonton's commercial real estate sectors were down significantly in Q2, excluding the apartment sector.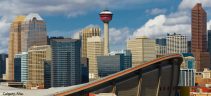 Canadian Apartment Magazine
Recent data released from the Altus Group indicates that the Alberta market is showing signs of economic recovery, with Calgary and Edmonton both posting favourable results.