design awards
REMI Network
Architecture and interior design students in Canada are invited to enter Formica Corporation's 2020 FORM Student Innovation Competition.
REMI Network
Eight Prairie Wood Design Awards were handed out at Alberta's 8th annual Wood WORKS! ceremony. Chosen from a pool of more than forty entries, the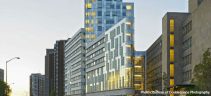 Canadian Facility Management & Design
The new 250,000-square-foot Faculty of Social Sciences building at the University of Ottawa, designed by Diamond Schmitt Architects and KWC Architects, has earned three design awards. The facility received an Institutional Building Award at the Ontario Concrete Awards, an Interior Wood Design Award from Ontario Wood WORKS!, and an Interior Green Wall Award of Excellence at CitiesAlive, the Green Roofs for Healthy Cities conference.