Starlight U.S. Multi-Family Core
Canadian Apartment Magazine
Starlight U.S. Multi-Family (No. 5) Core Fund announced that it has sold a 126-unit community in Houston, Texas, and plans to use the proceeds, along with the proceeds from the disposition of Belle Haven Apartments, to acquire Carrick Bend in Denver.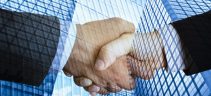 Canadian Apartment Magazine
Starlight U.S. Multi-Family Core is pleased to announce that Mr. Martin Liddell has been appointed Chief Financial Officer to replace Tamara Lawson effective May 4, 2016.