IDS Vancouver
Design Quarterly
The Interior Design Show (IDS) is returning to Vancouver this fall in a new format and with the extended dates of October 1 to 8.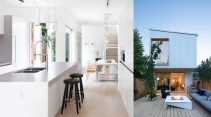 Design Quarterly
Falken Reynolds Interiors' latest modern-home interior design project, the Saint George House, highlights innovative design strategies.
Design Quarterly
Karim Rashid, famed industrial designer and prolific visionary, will be the keynote speaker at the 2018 Interior Design Show Vancouver (IDS Vancouver).