Better patient experiences result in stronger healthcare outcomes. However, enhancing these experiences means making the healthcare journey as efficient and stress-free as possible for both patients and their support networks.
"Anything you do to improve a hospital visit for visitors has a positive impact on the people they're escorting or coming to see," says Scot Martin, CEO of youRhere. "For us, that means using interactive digital communications to provide the directions, hospital updates, and personalized information they need during this otherwise busy and stressful time."
Pointing the way 
Digital signage has a critical role to play in helping patients' loved ones, care providers, and other supporters. This is particularly true when it comes to showing them the way.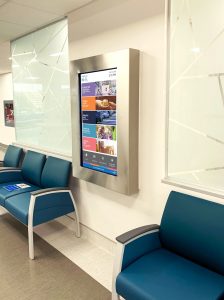 "Many hospitals have been built in stages. They have wings and additions that have been added over the years, which can make them confusing places to navigate for the majority of people who haven't memorized their layout," says Martin. "In that respect, interactive digital displays can provide clear and concise directions that cut through the confusion."
When it comes to hospital directions, "clear and concise" counts. That's why youRhere employs professionally-trained graphic designers who have experience designing user interfaces for healthcare environments. The result is interactive displays with user-friendly maps and information sources that can assist anyone who walks into
a hospital.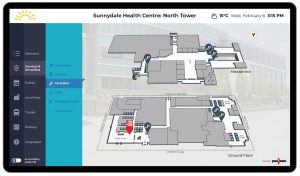 "We try and make those directions as easy to follow as possible by doing things like showing multiple levels on the same screen or enabling people to download step-by-step directions onto their mobile device," adds Martin.
"Being able to provide personalized directions goes a long way towards lowering a visitor's stress levels and getting them to their loved one that much quicker," he continues.
A focus on accessibility
Interactive maps and directories are only effective if they can be used by anyone, regardless of their preferred language or physical disabilities.
"Accessibility is a vital consideration for interactive digital signs," explains Martin. "We need to make sure that the sign is just as accessible to a person who is two meters tall as it is to someone in a wheelchair."
For example, youRhere's digital interfaces include buttons that adjust the height of on-screen menus. They can also feature headphone jacks and braille keyboards for the visually impaired.
Language is also an important part of promoting accessibility. This is especially true in many Canadian hospitals that serve a broad range of communities and demographics who may struggle with following directions or receiving information outside their first language.
"For many Canadians, especially new arrivals, the ability to search for what they're looking for in their mother language is a huge benefit. That's why an interactive or digital sign in multiple languages is far more effective and helpful to patients than putting up a bunch of physical English signs and indicators," notes Martin.
Promoting safety
Anxieties around airborne infections are at an all-time high, and these will likely linger well beyond the current pandemic.

As expectations for hospital hygiene climb, it helps to use digital signage to showcase everything being done to keep hospital staff, patients, and visitors safe (e.g., new protocols, cleaning technologies, real-time indoor air quality (IAQ), hygiene initiatives, etc.).
At the same time, digital signage can also be used to remind all hospital users of their role in mitigating the risks of infection (e.g., wearing masks, washing hands, safe distancing, etc.) and making the facility as safe as possible.
"Rather than one static image on a poster, digital displays allow a hospital to communicate multiple types of information that contributes to a safer overall environment," says Martin, offering, "You could have a rotating 'playlist' on your screen that includes health and safety protocols, information about a new fundraising campaign, updates about a blood donor drive, or even messages thanking staff and volunteers for their work."
Transportation connections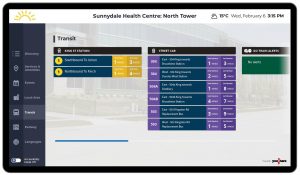 Few people plan for their initial trip to the hospital, let alone consider how they will get back. Moreover, family and friends who visit regularly may need support in finding the most effective travel option. Whatever the case, digital signage can display up-to-the-moment transit information or connect users to travel alternatives such as rideshares, taxis, nearby public transport, and other options.
Similarly, details regarding on-site parking (e.g., availability, maps, parking
services) can also help first and repeating visitors find their way to and
from home with fewer headaches.
Creature comforts
Visiting a hospital as a non-patient can be overwhelming. Any efforts to make visitors feel welcome and less overwhelmed throughout the journey go a long way towards ensuring guests don't carry that stress into their visit.
"If you have someone that's going to be at the hospital for any period of time, you want them to feel at home and make their subsequent visits less stressful," adds Martin. "So providing information on hospital amenities such as gift shops, guests services, food and beverage options, the location of the nearest pharmacy to prescriptions filled, or what amenities are available near the hospital will help them find what they need to get comfortable."
It takes a community 
The goal is the same in any environment: ensure occupants and visitors have access to the information they need to get to where they're going and access to supports that will enrich their experience. This philosophy applies as much to malls and office buildings as it does for hospitals, where there is further motivation to assist patients by making visits easier for their care network.
"Getting a patient to their appointment is job one. But beyond that, there's a lot of other things you can do for the patient and the people helping them that benefit everyone," adds Martin.
Scot Martin is CEO of youRhere, a leading provider of interactive digital signage
solutions for commercial, retail, healthcare, and educational properties across
Canada.