The invisible network of tanks, pipes, valves, and fittings in a building's plumbing system are vital components of a property. When there is a failure, every second counts. Not reacting quickly means costly repairs and inconvenience. Yet, it's not just leaks that are a problem; pressure, temperature, and velocity are also key factors in a plumbing system and all require consistent monitoring. That's where Tagteka steps in, offering a groundbreaking, patent-pending solution to ensure your condo management remains hassle-free.
Meet Tagteka, an innovative application that harnesses Radio Frequency Identification (RFID) tags and wireless sensors to record the mechanical details of plumbing systems and promptly transmit vital information during plumbing emergencies. These custom-made RFID tags are resilient, capable of withstanding UV light, high temperatures, and, most importantly, they're encoded with a unique sequence tailored to your condominium corporation.
The idea was first conceived by Bob Maslanka, President & High-Rise Plumbing Specialist of New Line Plumbing, and inventor of the Tagteka system. As a plumbing contractor for high-rise condominiums, he was all too familiar with the disorganization plaguing many buildings, often lacking accurate valve charts and plumbing blueprints. "When I get a new building, we check the valve charts and most of the time, information is inaccurate," Maslanka says. "It is critical for the building to know this information so that if there is an emergency, it can be shut down. I came up with an idea of how we can improve this situation."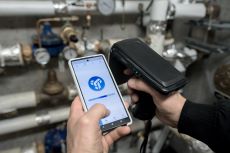 Putting himself in the shoes of property managers and board of directors, Maslanka delved into what was needed to make lives easier for those who manage buildings. The outcome of that effort is the Tagteka system.
Collaborating seamlessly with a scanning device and Radio Frequency Identification (RFID) tags installed on the requisite assets, Tagteka's mobile app logs all the essential details of a building's components into five categories: Plumbing, HVAC, Fire, Electrical and Common. This data serves as the foundation for a user-friendly application that exhibits comprehensive details about each building asset, complete with images, part numbers and a service history.
Recording images and part numbers are essential to proper maintenance because as Maslanka states, "In a building's blueprints, mechanical engineers specify model numbers for devices. However, builders don't always adhere to these recommendations, and that may remain undetected until a problem arises. With our system, we take a picture of the device that was installed, creating a comprehensive history. If the contractor during installation deviated from the engineer's recommendations, you have a record." Moreover, this meticulous documentation not only ensures effective future maintenance but also provides crucial protection for the building's integrity during warranty claims.
Service history is logged to provide a unique countdown feature. Property managers have access to a progress bar for each asset, indicating when maintenance is due, preventing potential problems. Anything overdue goes red, and this is critical because as Alex Rajak, Vice President of Operations at Tagteka Inc. states, "If you don't exercise each valve once or twice a year, the mechanical component inside seizes and can be difficult to shut off. If you can't isolate the valve, you must shut down the whole building and drain all the water to perform the repair."
Once the application indicates the need for asset maintenance, property managers have the convenience of directly requesting servicing for that specific asset directly from the app. Tagteka software sends instant notifications to authorized personnel allowing speedy action to be taken. Time spent waiting for quotes is reduced using this digital system. According to Rajak, "The contractor gets a text or an email listing all the details pertaining to that asset, so they don't need to come to the building first to get a quote on the materials."
When contractors arrive at a building for planned maintenance or in response to plumbing emergencies, locating valves can sometimes pose a challenge when their whereabouts are unknown. However, Tagteka's scanning device comes to the rescue in such instances, uncovering valves concealed behind ceiling tiles and in other challenging-to-access areas. "A unique feature that we've implemented is a reverse locate tool," says Rajak. "As you approach the asset of interest, an indicator bar within the app shifts from yellow (indicating a greater distance) to red (signifying close proximity), accompanied by a more pronounced sound cue, effectively alerting you that the asset is right in front of you. In emergency situations, it is a game changer."
But that's not all. Tagteka's app also offers a secure platform for property managers to store documentation. Rajak notes, "You can upload photos, warranty documents, servicing manuals, or any necessary information. If you need to share a riser diagram with your plumbing company, everything is readily accessible." And all this information remains with the building during shifts in management. Data is securely retained within the building corporation's account, guaranteeing a smooth transition in the event of a change in property management. For a new property manager, the process is facilitated by generating a new login to that building's account.
Along with RFID technology, Tagteka Inc. also provides real-time monitoring using state-of-the-art wireless sensors. These temperature, pressure, flow and flood sensors alert building managers via text message and email when there is an issue, allowing for quick action to be taken. "There's a difference between a five-minute notification and a 45-minute notification," explains Rajak. "If there are any anomalies, you'll get notified. For instance, at the first contact of water, it takes our sensors under a minute before a text message is sent."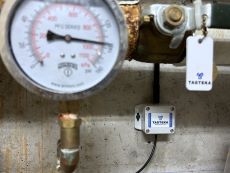 Continuously monitoring temperature, pressure, flow and flooding are essential to preventing potential issues in a plumbing system. According to Maslanka, "We introduced wireless temperature sensors because excessively hot water can be a scalding risk, especially to children. Without wireless temperature sensors, you're not going to know that the temperature is too high."
Moreover, Maslanka notes that high-rise condominiums using plastic piping over copper are running into issues when inexperienced plumbers come to the building and tweak parameters, causing stress within the internal components of the piping. "A year down the road, you start having micro fractures in the integrity of the piping, causing bursts and flooding," he says. Therefore, having Tagteka sensors that measure the pressure and speed at which water travels through the piping helps to protect the building from costly repairs.
Maslanka goes on to describe fan coil units as 'insidious culprits' of water leaks. For maximum protection, he recommends installing flood sensors in each unit.
Tagteka's RFID tags and network of wireless sensors offer a comprehensive solution to current challenges that most building's face. "We've created a system that will arm property managers and unit owners with all the information they need to act as quickly as possible, ultimately saving the condominium corporation time and money."
To learn more about the technology driving Tagteka and its infinite possibilities, visit www.tagteka.com