A new condo coming to downtown Milton is called Stationside for good reason. The two-tower project from Neatt Communities will be one of the first condos that connects with the town's future mobility hub and upcoming Milton Go Station.
Proximity to transit is a key in a growing region, where residents are looking for easy and accessible commutes. The town's population, about 133,00, is on pace to reach 355,000 by 2051. The future mobility hub is expected to attract about 25,000 new residents to the Milton area, provide 4,000 jobs, and connect new developments, offices, restaurants, and transit to create a central point of access.
Once the Milton Go expansion takes off, commuters are promised 15-minute rush hour train service from Milton to Union Station, with 3,000 new GO train seats.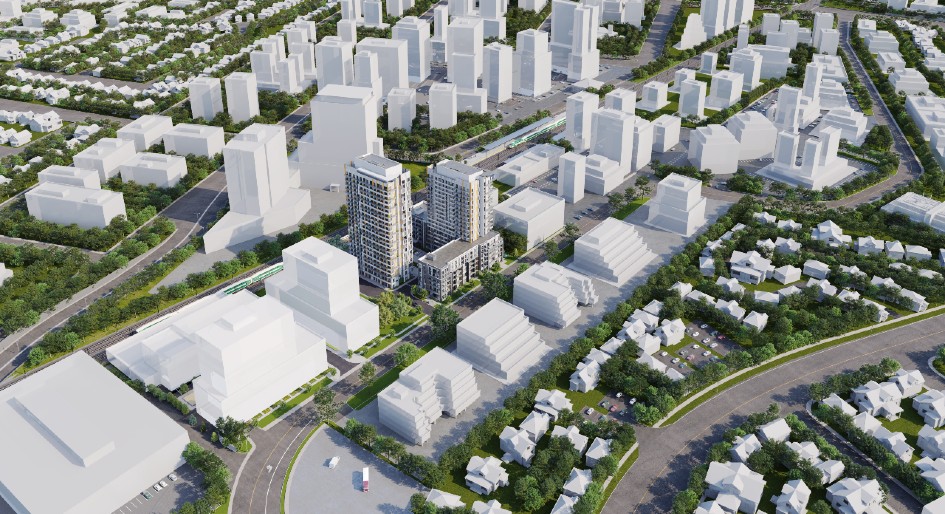 Mike Vernooy, principal of Neatt Communities, said the condo will help redefine Milton as a  major transit hub in the GTA. Plans are in the works for a second condo project at 560 Main St. in the coming years. "This marks only the beginning of Neatt Communities' long-term commitment to Milton, where we envision creating a vibrant urban centre that brings modernity and tradition together, shaping a bright future for this community," he said.
The Stationside towers are 19 and 23 storeys tall and connected through a six-storey shared podium. They feature 612 suites ranging from one-bedroom to two-bedrooms with a den, with suites from 447 to 900 square feet.
Architecture firm KNYMH collaborated with Neatt Communities to craft a building façade that  features a combination of precast panels, sleek window walls, and tasteful aluminum accents.
The Palette Project Inc. curated interiors, with modern design elements, an inviting atmosphere and comfortable accommodations combined into one living area. Key features include wide plank luxury vinyl tile (LVT) floors, nine-foot floor-to-ceiling windows, straight edge composite quartz slab countertops, and much more.