Plans for Markham Centre Campus (MCC)—an outpost for York University—are beginning to unfold as construction begins this month on what will be the first public university in York Region.
York University President and Vice-Chancellor Rhonda L. Lenton said the campus, located in Markham, Ont., will focus on "digital technologies, entrepreneurship and experiential education in high demand areas such as business and entrepreneurship, data analytics, new media and communications."
Set for completion in 2023, the Diamond Schmitt-designed facility will feature a vertical campus building that is fully integrated with the area's diverse, growing network of commerce, athletics, arts, and entrepreneurial communities.
"The design of this highly accessible building defines a collegial academic community within a series of interconnected, multi-storey spaces of gathering and interaction," said Donald Schmitt, principal, Diamond Schmitt.
The building form consists of a five-storey podium with five-storey tower above. Bronze-anodized aluminum cladding and fritted bird-friendly glazing are interspersed within a syncopated fenestration pattern. Cantilevers and curves animate the building form and create fluid, interactive spaces supporting teaching and research within a vertical campus.
The 400,000 square-foot facility opens onto a sloping Campus Green at several levels, strengthening its connection to the landscape as well as to future development phases. The Campus Green creates an outdoor focal point for social gathering, Indigenous learning and respite. Lowincline curved pathways connect with a nearby civic athletic centre, transit hub, cinemas and commercial district.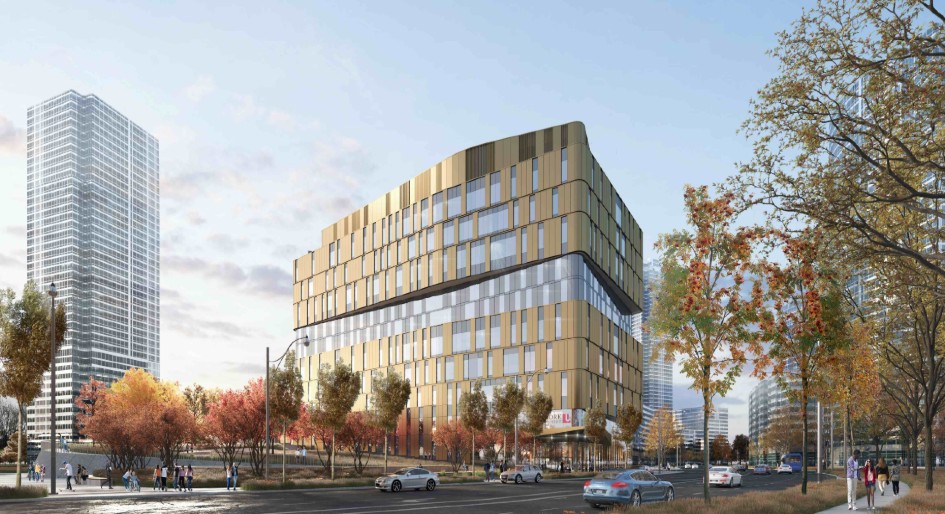 The initial phase of this compact, connected, vertically integrated campus will accommodate up to 4,200 students with the flexibility to respond to future growth demands. Bright and naturally lit circulation binds the stacked campus together with large and small common areas to support student interaction throughout the building.
Photo by Diamond Schmitt Architects