Reserve Properties and Westdale Properties marked the start of construction for Line 5 with a small ground breaking ceremony. Located at Yonge and Eglinton, a rapidly developing transit node in the city, Line 5 is the first of several projects by the development team slated for the area.
"The impact of the new LRT will be transformational for Yonge and Eglinton. With rapid transit soon to be available in every direction, we see this area emerging as the new centre of Toronto." says Shane Fenton, chief operating officer, Reserve Properties. "As developers it's our job to respond to the moment, delivering a project that not only contributes to the changes taking place, but fosters the incredible potential of this neighbourhood."
Clad with high-contrast metal, mesh, and natural materials, Line 5's two 36- and 33-storey towers and 8-storey podium aim to add a new and unexpected contrast to the existing condos at Yonge and Eglinton. Designed by architecture firm IBI Group, oscillating patterns, layers, and textures contribute to a fresh and refined architectural vernacular for the neighbourhood.
The pursuit of Line 5 is to address the changes in how people live, not only through an embrace of more technology, but through the thoughtful application of space: a dedicated ride-share pick-up is intended to alleviate the impact on local traffic; oversized parcel storage takes the clutter off the concierge desk; hot and cold storage in the lobby ensures the convenience of ordering food online doesn't come with diminishing returns.
"Communities are defined by the people who inhabit them and Yonge and Eglinton is bursting with energy," says Mitchell Cohen, chief operating officer, Westdale Properties. "We wanted to harness that energy and generate something truly innovative that spoke directly to the changes taking place."
More than 30,000 square feet of amenity space, includes an 8,000-square-foot fitness facility with dedicated spaces for on-demand interactive training systems like PRAMA and Peloton, personal training, and yoga overlooking an outdoor Zen garden.
On the upper amenity floor, a co-working space and social club opens to a designer pool through a glass NanaWall that connects inside and out. Using the dynamic layering of rich materials, curving banquettes, and stone harvest tables, interior design firm U31 tailored the design of the flexible space to support those working remotely during the day while offering opportunities to socialize at night. Shared spaces include two communal kitchens, three outdoor lounges, an art studio, outdoor theatre, library, and outdoor game lounge.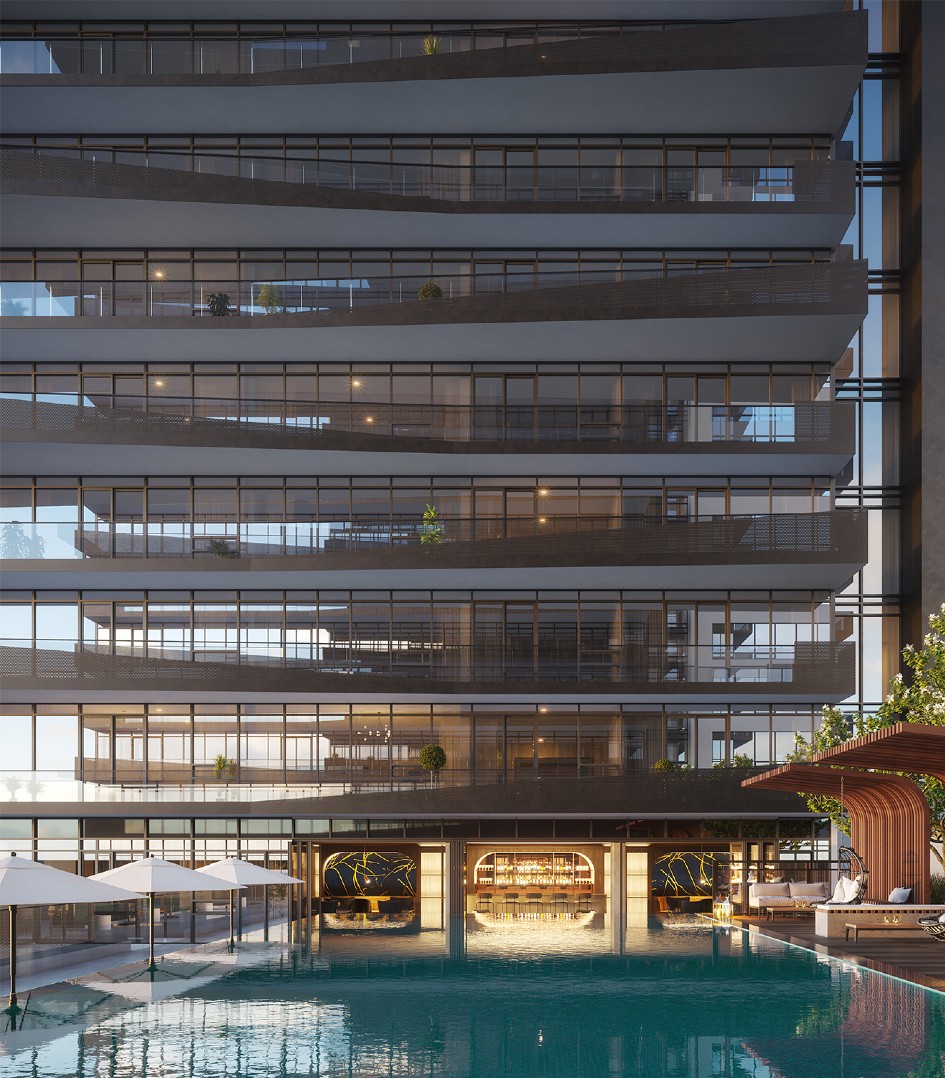 Feature photo by Geoff Fitzgerald