YMCA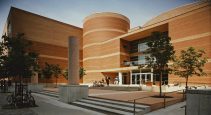 REMI Network
The Toronto Central YMCA has received the Prix du XXe siècle, an award that recognizes outstanding contribution to Canadian architecture.
Design Quarterly
Shane Homes YMCA has opened at the new Rock Ridge facility in Calgary. It is the world's largest YMCA. The facility stands at 284,000 square feet.
Canadian Facility Management & Design
The City of Coquitlam and the YMCA of Greater Vancouver have signed an Agreement in Principle to develop a new 50,000-60,000-square-foot community recreation facility in the Burquitlam community of Coquitlam, B.C. A site for the new facility has not yet been selected, though city officials are eyeing the location of the future Burquitlam Evergreen Line rapid transit station.