WZMH Architects
Construction Business
The new state-of-the-art Abbotsford Law Courts in British Columbia expands from five to 14 courtrooms, increasing access to justice.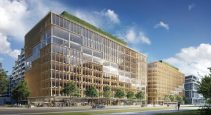 REMI Network
Starting its ascent in the Bayside Toronto community last week, T3 Bayside will bring 251,000 square feet of mass timber office space to the eastern waterfront.
REMI Network
The CN Tower, one of WZMH Architects' most celebrated and iconic designs, is the 2017 recipient of the Prix du XXe siècle.