Vancouver Island
Construction Business
The Vancouver Island Health Authority is now offering expedited vaccination opportunities for construction workers.
Construction Business
The total value of building permits issued on Vancouver Island during the third quarter of 2020 rebounded to $681.6 million.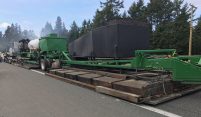 Construction Business
Three Vancouver Island highways are being resurfaced as part of an $8.5-million project to improve conditions for people who travel on these routes.