Vancouver Centre II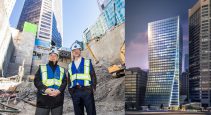 Canadian Property Management
B2Gold will occupy 37,000 square feet across three floors in the new Vancouver Centre II office tower. VCII GWL Realty Advisors is now 38 per cent leased.
Canadian Property Management
Kabam, is expanding its North American headquarters, signing a lease of 105,000 square foot across seven floors at Vancouver Centre II.
REMI Network
Vancouver Centre II, the next phase of the Vancouver Centre complex, will be in the heart of the city's growing tech hub.