Urban Capital
CondoBusiness
The project, called Reina, will turn the city's former House of Lancaster site into a new residential complex.
CondoBusiness
Two years into its development, Rogers Real Estate Development and Urban Capital report that Mississauga's "M City" has reached several construction milestones.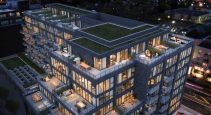 CondoBusiness
Urban Capital and Rosewater have unveiled plans for their latest development, Queensway Park, located on The Queensway.