Revery Architecture
Design Quarterly
The $126 million Simon Fraser University (SFU) Sustainable Energy and Environmental Engineering Program (SE3P) building was officially opened this April.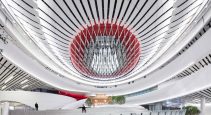 Design Quarterly
The Xiqu Centre, Hong Kong's first performing arts venue dedicated to promoting the rich heritage of xiqu, celebrated its grand opening this month.
Design Quarterly
Vancouver based Bing Thom Architects, named after its late founder and renowned architect Bing Thom, has been renamed Revery Architecture.