residential tower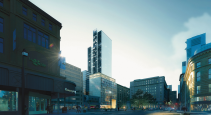 REMI Network
Brivia Group has revealed the first look at 1 Square Phillips, a 61-storey residential building slated for development near Montreal's iconic Phillips Square.
CondoBusiness
The City of Burnaby, BC has greenlit the development of Two Gilmore Place, a 64-storey residential tower slated to become the tallest of its kind in the province.
CondoBusiness
Peter & Adelaide, a new residential tower by Graywood Developments, will rise at Peter St. and Adelaide St. in downtown Toronto's Entertainment District.