realtors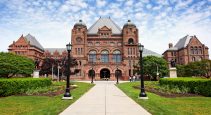 REMI Network
Ontario has introduced a long-awaited bill that would make significant changes to the way real estate professionals conduct their business.
CondoBusiness
In June 2017, Greater Toronto Area realtors reported 7,974 home sales through the TREB's MLS System, a drop of 37.3 per cent compared to June 2016 levels.
CondoBusiness
Ontario realtors are in support of Bill 104, the Tax Fairness for Realtors Act, 2017. If passed, it would allow realtors to form personal real estate corporations.